If you happen to own a building or an Airbnb place, you must have thought of improving the security while allowing access to the people who are staying there.
One of the most hassle-free ways to do so is by installing a smart lock. The Nest x Yale is one of the most popular key-less smart-lock solutions on the internet.
All you need is the Nest x Yale lock and a screwdriver, and you are good to go. It allows you to lock your door keyless, set timers for guests, create a new entry for anyone entering your property, set passcodes, and even comes with an activity log.
Having said that, it is rare for such a critical app to mess things up. However, the Nest app on iOS devices has achieved this astonishing feat.
According to several user reports, the Nest app for Yale locks no longer allows users to set a start or stop time for guest users.
Google said that they are already aware of the issue and working on a fix. However, the company has not provided any ETA on when the issue will be fixed.
The Nest app for the Yale logo used to let me set a start/stop time for guest passcodes. I'm an Airbnb host, so this was a great feature. Previously I would click "start" and a rolling wheel of hours/AM PM would drop down. Now when I click, nothing happens. I have to leave their passcode active until I manually go back in and delete it. I've tried closing out of the app and looking for app updates, but it says everything is up to date. Anyone else having this issue?(Source)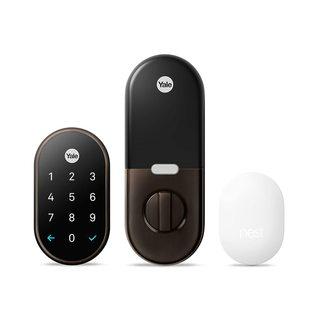 I use the Yale door lock since more than 2 years now and I'm having trouble to set it up for visitors. Can not choose date and time for further activations to come anymore. This is serious issue for me. Please I need help asap.(Source)
Fortunately, the company has provided a workaround that might come in handy for some.
If you want to set the start and end times for your guest passcodes, you can use the Nest web app (home.nest.com) to set the guest passcodes.
However, you will need to create the Guest Passcode using the app. The ability to create a "Home Entry Only" member is missing on the web app, so make sure you do so before using the Nest web app to "Edit the schedule."
Apart from letting users create passcodes for guests, another bug haunting Nest X Yale users is the ability to control the Yale lock using the Nest app.
Google said they are aware of the problem and working on a fix for the same. It is really frustrating for people who spent a lot of money on Nest x Yale smart locks and are unable to use them.
The issue was reported on iOS more than a week ago, but Google is yet to come up with a fix for the Nest x Yale smart lock issue.
We hope Google fixes the Nest x Yale smart lock issue on iOS devices as soon as possible.
Note: We have more such stories in our dedicated Google Section so be sure to follow them as well.
PiunikaWeb started as purely an investigative tech journalism website with main focus on 'breaking' or 'exclusive' news. In no time, our stories got picked up by the likes of Forbes, Foxnews, Gizmodo, TechCrunch, Engadget, The Verge, Macrumors, and many others. Want to know more about us? Head here.