Do you avoid a particular type of content on Netflix? You might be into rom-coms or like to watch action movies on Netflix. Meanwhile, avoid watching horror movies. Or, you might have a personal vendetta with a particular film that reminds you of an unpleasant time. In such cases, you can hide a specific title on Netflix to avoid seeing it ever on your feed. You can also ensure that your kids stay away from adult movies and protect them from watching unnecessary violence, or vulgarity. So, if you are ready to declutter your Netflix feed, here's how to block shows on Netflix.
How to Block Shows and Movies on Netflix from Any Device (2022)
Netflix allows you to either block content according to the motion pictures or censor board rating or lets you block a specific title from a profile. The setting is exclusive to every single profile. Therefore, if you want to hide shows on more than one profile, you have to repeat the steps for each one. Meanwhile, when you want to protect your children from obscene content, it's better to create a "Children profile"; more on that later. Let's see how you can remove shows from your Netflix feed using the maturity settings and block a particular title.
Table of Contents
Change Maturity Ratings to Block Shows on Netflix
Every title available on Netflix is specified under one of the many maturity ratings appointed by Netflix or your country's local censor board. The movies and shows in the USA follow 11 standards as described below.
Kids
TV-Y: Designed to be appropriate for all children
TV-Y7: Suitable for ages seven and up
G: Suitable for General Audiences
TV-G: Suitable for General Audiences
PG: Parental Guidance suggested
TV-PG: Parental Guidance suggested
Teens
PG-13: Parents strongly cautioned. It may be inappropriate for ages 12 and under.
TV-14: Parents strongly cautioned. It may not be suitable for ages 14 and under.
Adults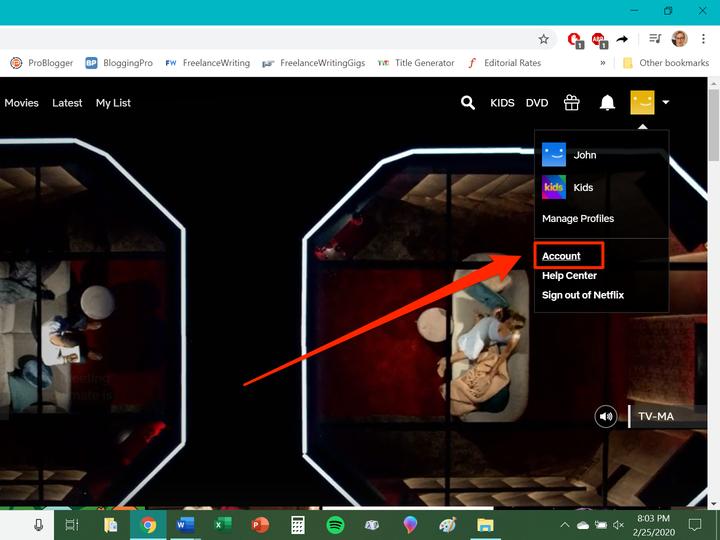 R: Restricted. It may be inappropriate for ages 17 and under.
TV-MA: For Mature Audiences. It may not be suitable for ages 17 and under.
NC-17: Inappropriate for ages 17 and under
You can choose from the various maturity levels, and Netflix will block every title falling under a superior maturity rating. For instance, if you set the maturity level for a profile under 12, Netflix will block every title that is not suitable for children below 13. The profile will then show you Netflix shows and movies appropriate for children under thirteen. This method is most appropriate if you have children in your family. You can set the maturity level according to their age. Then, password-protect other profiles to stop your children from entering them. Here is a detailed guide on locking your Netflix profile using PIN lock.
With that out of the way, let's see how to change a profile's maturity level on Netflix.
If you choose the maturity level for kids, i.e., for the age group below 7, Netflix will convert the profile into a Kids profile. I also recommendchecking the box under Children's profile. Netflix will then mark a show as "Netflix Children experience" is it is made for kids. A Kids profile on Netflix has some additional features you should know to benefit from the Parental controls. Here are a few points you should know about a Kids profile on Netflix.
Apart from restricting access to unsuitable content for children, a Kids profile on Netflix will give you additional settings and control what your children can watch. It removes any movie and shows that exceed the preferred maturity level.
How to Block Shows on Netflix Using a Web Browser
You can block specific shows or movies on Netflix that you don't wish to watch on your profile. It can be a horror movie bringing back unpleasant memories or a romantic film bringing back more unpleasant memories. You can quickly add the title in restricted content, and Netflix will remove it permanently from your profile. You have to remove the content from the Restricted Titles list if you ever wish to see it again. Let's see how to block a specific show or movie on Netflix from parental controls.
It can take a while to reflect the changes on other devices. However, you won't be seeing the restricted titles ever again on your feed. In addition, you won't be able to find the movie or show even if you search for it. The setting is exclusive to a single profile. Therefore, you have to add the title under the restricted content for each profile to remove it from everywhere.
How to Block Netflix Shows from Windows/Mac App
The Windows app for Netflix is straightforward to use. However, Netflix hasn't created an application for the Mac platform. Therefore, you need to access Netflix on your Apple computer using a web browser. On that note, let's see how you can block Netflix shows and movies from the Netflix Windows app.
Adding shows and movies in the restricted title section will permanently hide them from the profile. You will need to remove the titles from the list if you ever wish to see the show again.
How to Block Netflix Movies and Shows on Android/iOS App
Netflix has an excellent app for Android and iOS. You will find the apps working similarly on all the platforms. Here, we will use an Android device to demonstrate how to remove shows from your Netflix profile using a smartphone.
Can I Block Netflix Shows on Smart TV and Roku?
Blocking a specific title requires you to access the Parental and Profile Controls in the Netflix account settings. Unfortunately, Netflix does not allow us to access these settings using streaming devices like Smart TVs, Chromecast, Roku, or Firestick. Accessing the account settings on Netflix requires us to log in using a web browser. Therefore, you can manage the viewing restriction on Netflix only from devices with a web browser.
Frequently Asked Questions
Can you remove shows from Netflix?
Yes, you can remove any show or movie from Netflix for your profile by adding the title in theRestricted Titles section. It will permanently hide the content from your profile unless you decide to remove it from the list.
How do I block certain shows on Netflix so kids can't watch?
You can either change the maturity level for a profile from Account Settings>Viewing Restrictions to block content inappropriate for your child's age, or you can block specific content by adding it in the Restricted Tites section.
What are the different maturity ratings on Netflix?
Netflix has curated various maturity levels for each show. The rating varies for each country according to the censorship laws in the country. Still, the categorization for the shows is standard for almost every country, which is specified under three categories, i.e., Kids, Teens, and Adults.
The lowest setting, "All," contains shows everyone can watch regardless of age, it usually has content for Kids, and it restricts most of the content on Netflix. The highest setting, "18+," will show every content on Netflix without restriction.
Every other maturity level keeps filtering out content according to the age. A profile with a maturity level on the lower side of the scale will automatically hide any content that falls under the higher maturity level.
Can I Watch Blocked Shows in a Watch Party?
If you have blocked a Netflix show or movie, you will not be able to access it. So, even if you're planning on watching Netflix together with your friends and family, the show you have blocked will not be available.
Easily Block Shows on Netflix, or Create Kid-friendly Netflix Profiles
Now that you know how to block shows and movies on Netflix, you can go ahead and start blocking all the movies and TV shows you never want to watch again. If you're trying to create a profile that's safe for young kids to watch, you should consider using the age-rating based blocking method that we have explained as well. So, which shows are you thinking of blocking on your Netflix profile, let us know in the comments.