UPDATE: On August 28th, 2018, Google added the ability to unlock, lock and check the status of the Nest x Yale Smart Lock via Google Assistant and Voice Commands. Review wording and scoring revised to reflect that feature addition.
Security is a funny thing; it's this illusion we all indulge in, telling ourselves our homes are safe because we secure the main point of entry – the front door. In reality, unless you've painstakingly and expensively alarmed and reinforced every single point of entry in your home – effectively existing in a leaden box –your home isn't safe. Every window can be broken with the smallest of stones, your garage door opener easily spoofed, your deadbolt easily picked. In short, if someone wants to get in your house, they'll find a way.
The fact of the matter is a lot more would-be criminals have the skill to bust a window or pick a lock than do ones that can hack a two-factor Google account or an AES256-encrypted WiFi network. And that's what makes a smart lock every bit as secure as a manual deadbolt.
The Next x Yale in particular fits the bill. Its exterior is largely metal (in Satin Nickel, Oil Rubbed Bronze, or Polished Brass finishes), with a black plastic battery cover on the interior plate and black glass keypad on the exterior.
Installation
Frankly, it was a fairly fool-proof installation, assuming you already have a deadbolt installed in your door. The included instructions, diagrams and templates are tremendously helpful.
I have next to no experience installing hardware. I'm mostly useless around the house, but I still pulled it off with minimal help.
My only hangup, hardware-wise, came when I made the decision to use my existing strike-plate rather than the one included in the box. Mine is a four-screw plate affixed using tamper-resistant cabinet screws, while the included one from Nest was a puny little two-holer with two standard 1″ screws included. The deadbolt wouldn't quite turn without a slight hitch, and the small motor in the Nest x Yale requires a completely smooth turn to work properly. A coarse file and a little elbow grease later, and the bolt turns smooth as butter.
Using the Nest x Yale
Using the Nest x Yale is pretty painless, whether you're doing so via the app or manually, from within or without.
From Within
The interior side of the Nest x Yale looks like your average deadbolt, albeit with a rather garish black plastic battery cover that can only be removed by poking a thin object – like the included tool, or a pushpin – into the top of the lock. Whether this is actually tamper-proof or simply put in place to annoy us, we'll never know – but it's a pain.
If you installed it correctly, the bolt should slide with no trouble at all – but the turn-style may trigger a (patently false) sense of flimsiness. There's a single button on the on this side of the door; a Privacy Mode button, which when pressed and held makes it so it can't be unlocked from the outside, even with a code. Needless to say, it should be used judiciously.
From Without
The exterior face of the Nest x Yale is standard fare, with a metal frame and black gloss keypad as the only means of access on the thing. Some die-hard traditionalists might bemoan the lack of a mechanical key slot, but the result is a clean look indeed. Unlocking the door manually is simple – just tap the Yale key to wake up the lock, type in your personal code, then tap the check mark. It's not quite as fast as using a key, perhaps, but it sure beats keeping track of one.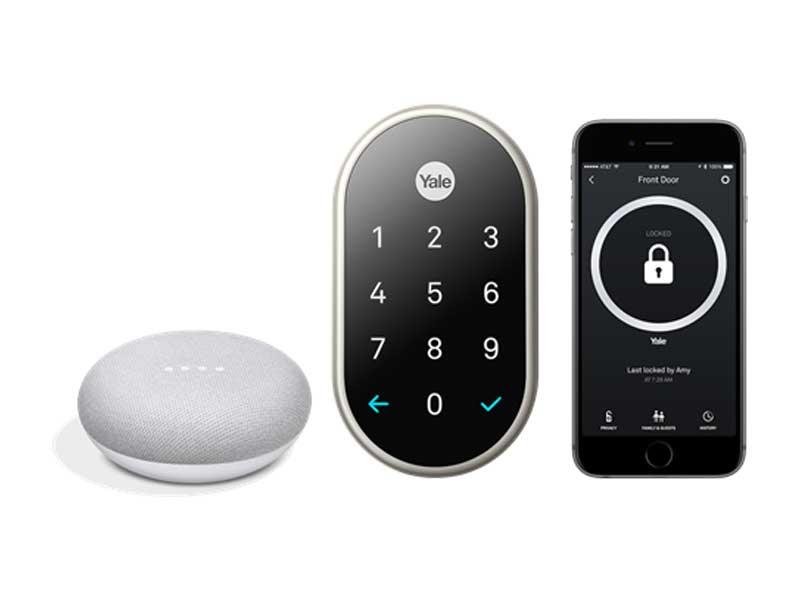 Also on the exterior side of the Next x Yale is also a terminal for connecting a 9-Volt battery in the case of a battery failure – which would be useful if, you know, anyone carried a 9-Volt battery. I stuck one in my glove compartment, just to be safe.
Via App
Whether indoors or out, the easiest way by far to lock or unlock your Nest x Yale smart lock is with the Nest App. The app maintains a separate UI for each Nest device in use in your home, so accessing these devices is as simple as tapping on the device you want to use from the Nest home screen and then – in the case of the Nest x Yale – long-pressing the massive Lock/Unlock icon to perform that function.
From the app you can also manage codes and permissions for those codes, as well as configure notifications. Unfortunately, notification control is limited to whether or not you get one when the door is locked or unlocked, or not at all. Personally, I'd love to see a bit more micro-management options. For example, I'd like to be able to receive notifications when one of my AirBnB guests uses their code to get in, but I'd rather not be notified every time my girlfriend uses her code.
Codes can be granted either Door Access Only or System-Wide Access. The former enables them to only use their code to unlock or lock the door, while the latter also gives them access to things like your Nest Thermostat, Nest Cameras, and Nest Doorbell. I recommend the former for guests – rather obviously. These codes can also be set to only activate at certain times or certain days; perfect for those of us that use AirBnb and want to automatically limit access before a guest checks in and after they check out.
Google Assistant Support
Google added Assistant support to the Nest x Yale smart lock on August 28th. This is an extremely welcome addition to the platform, as it allows it to function as a true smart lock, integrated within the ecosystem of other smart home products rather than separate from it.
The lock can be toggled by saying either "lock the front door" or "unlock the front door," and the status of the lock can be obtained by simply asking Google Assistant "is the front door locked?: Note that if you have multiple Nest x Yale locks in the house, all you need to do is label them properly to use those voice commands.
The lock now also supports Google Routines, in which Google Assistant can link a batch of commands to a single keyword. For example, you could program Google Assistant to respond to the command "Good Night" by locking all the smart locks, turning off all smart lights, and setting your smart-enabled thermostat to a desired temperature.
It's really, really cool.
Hiccups
I've had exactly three software SNAFUs since receiving the Nest x Yale back in April.
Connection Issues
The first came during setup, in which my V30 would not detect the Nest Connect that's used as a bridge between your lock and your phone. No amount of rebooting or refreshing would fix the problem, so we tried using the HTC U11 instead – and it worked flawlessly. Now, my V30 has had connection problems since the day I got it (Bluetooth compatibility, in particular, was finicky) so it's hard to land the blame squarely on Nest's shoulders for this one, but I feel it's still worth noting.
Random Reporting
The second of these issues showed up when my Nest app spontaneously decided to report dozens of instances of the door locking and unlocking over a period of six hours – over a hundred in total!
Upon closer inspection it would appear that the lock never actually unlocked during this period of time, the app merely generated a log of it doing so. So while the app decided to go crazy for a few hours, the lock itself remained secure – which is reassuring. Also reassuring is the fact that in the month since, I've had no other instances of this happening.
More Connectivity Issues
However…this last problem is a bit of a doozy. I recently got a new internet provider, and therefore new network hardware to go with the new network. After re-configuring the network SSID and password, the Nest x Yale worked properly for about a week. But then, out of the blue, the entire Nest setup – both Connect and Yale lock – reverted to Offline mode for a day and change. I went through the proper troubleshooting steps suggested by Nest (check connection, re-certify the network, the works) but my app wouldn't even detect that the Nest Connect existed, let alone connect to it. I used three different phones (LG V30, HTC U11, and OnePlus 6), but nothing I did helped.
So I reinstalled the whole system from the ground up. It was a pain in the butt, but it worked.
…Until it didn't. A couple weeks later, the same thing happened. This time I contacted Nest Support directly and was connected with a very diligent and persistently helpful representative. He walked me through all the steps he could, using his support tools every step of the way to try to diagnose the problem. After a bit of fiddling the system came back up without me having to reinstall anything, which was great. But then it happened again. And again. And now again, for the fourth time, with my Nest Rep still trying to figure out what's going on. Unfortunately, I couldn't wait any longer to publish my review…so I'll update you all if my experience improves.
Still Secure
Worth noting, however, is that even with all of these connection issues the lock itself remained secure and the onboard memory intact – all my codes still functioned, the only thing that didn't was the remote unlock feature. This is a problem, yes – but not a disaster and not a security risk.
Value
At $279, the Nest x Yale/Nest Connect Bundle is a bit pricey. Similar smart locks are a bit cheaper: Schlage's Z-Wave is $179, August smart lock is between $112 and $279, and Kiwkset's smartlock solutions range from $90 to $150. Nest x Yale has the advantage of being connected to the rest of the Nest line – which is either a pro or a con, depending on whether or not you plan on using other Nest products. Unlike the august solution, which is merely a cover for an existing deadbolt, the Nest x Yale replaces your deadbolt – making a more elegant solution.
Get the Nest x Yale for $279
Note: Select outbound links may include affiliate tracking codes and AndroidGuys may receive compensation for purchases. Read our policy.As an Amazon Associate we earn from qualifying purchases.
---