(Blink Indoor)
As we return to our regularly scheduled lives beyond the four walls of our homes, home security cameras offer peace of mind when we're out and about. Amazon Prime Day, which runs through June 22, is a great time to pick up a discounted security setup, among other deals, like those from Amazon's own Ring and Blink brands.
---
The Best Amazon Prime Day Home Security Deals
---
Ring Spotlight Cameras
Ring Spotlight Cam Battery
Ring's Spotlight cameras are excellent for monitoring any activity around the exterior of your home. These cameras have powerful lights built into them and motion sensors that turn on the lights and start the camera recording. They are available in wired and wireless models that give you the flexibility to place them just about anywhere.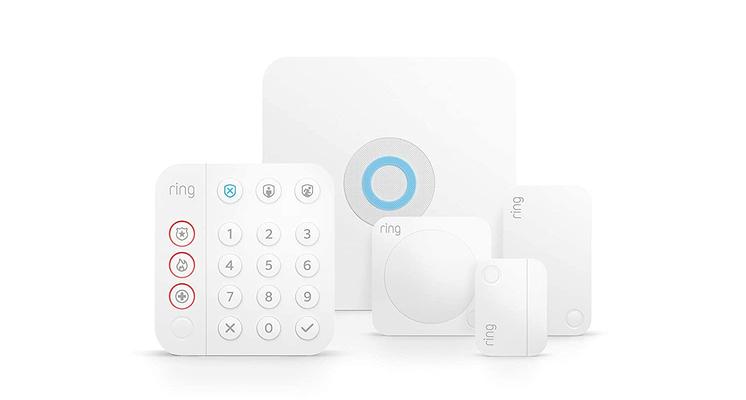 ---
Blink Security Cameras
Blink Mini with Echo Show 5
The Blink Outdoor camera has motion detection, is weather resistant, and can last for up to two years on battery. The Blink Indoor camera is essentially the same as the outdoor camera without the weather resistance, which saves you a few bucks. Blink also sells a wired mini camera with built-in night vision and motion detection. This camera is among the least expensive security cameras you can buy; it's great if you want to keep an eye on a mischievous pet.
---
Ring Video Doorbells
Ring Video Doorbell Pro 2
Ring's Video Doorbells add a camera and microphone to your front door setup so you can see and talk to anyone who approaches your porch. These devices also all have motion detection built-in, which is useful for catching package thieves.
The Ring Video Doorbell gives you 1080p video resolution with on-demand video, two-way audio, and advanced detection, while the Ring Video Doorbell 3 and Ring Video Doorbell 4 add features like dual-band Wi-Fi connectivity, a removable battery pack, interchangeable faceplates, and a corner kit. The Pro line features pre-roll video previews, quick replies, and Alexa greetings.
---
Ring Alarm Security Kits
Ring Alarm 5-Piece Kit
Ring takes a different approach to home security with its Alarm security kits than it does with its line of cameras. Though you can purchase any of these kits with a Ring camera or video doorbell, none of the kits contain a camera by default. Instead these security kits rely on motion detectors and contact sensors to keep your home safe.
Essentially these devices watch for movement and then sound an alarm to alert you if someone breaks into your home. The motion sensors are best placed in common areas such as a hallway or near the front door, while the contact sensors can be placed on any door or window. Depending on how large your home is, you may want to consider the larger eight-piece or 14-piece kits that have more contact sensors than the base five-piece set.
Though these kits provide excellent security, for the best results you should consider purchasing a kit alongside some cameras. Some of the most popular Prime Day deals in previous years were on Ring Alarm security kits bundled with Echo smart home speakers or displays.
---
More Home Security Deals
eufy Security Smart Wi-Fi Touch Keyless Entry Door Lock
---
For more Prime Day deals, check out our sister sites Offers.com and RetailMeNot.
Looking for a Deal?
Sign up for our expertly curatedDaily Deals newsletter for the best bargains you'll find anywhere.
Email
This newsletter may contain advertising, deals, or affiliate links. Subscribing to a newsletter indicates your consent to our Terms of Use and Privacy Policy. You may unsubscribe from the newsletters at any time.
Thanks for signing up!
Your subscription has been confirmed. Keep an eye on your inbox!