Keyless locks like this one eliminate the threat of someone breaking in using a lockpick or a bump key, but they also remove a time-tested means of entry -- your key -- from the equation. With the Assure on your door, your only means of getting in are the touchpad and the companion app. And, given that you can get a keyless touchpad lock sans smartsfor roughly half the price of this one, there's an awful lot of pressure on that app to make the Assure a worthwhile upgrade.
No keys needed with the Yale Assure smart lock
See all photos+8 More
In the end, the Assure doesn't even come close. You can't use the app to lock the door from afar, and it won't even tell you if the door is locked in the first place. Aside from sharing access with others, all the app really offers is a way to pull out your phone and use it to unlock the door when you're already standing right in front of it. At that point, I don't know why you wouldn't just leave your phone in your pocket and punch in your code.
For an extra $50, you can upgrade the Assure with aZ-Wave or ZigBee radio module, or, starting in April, a $75 Apple HomeKit module that'll let you lock and unlock it using Siri voice commands. All of those will expand the Assure's smart features, but if that's the kind of thing that interests you, then you're better off just getting one of several other smart locks that include those sort of smarts from the get-go (and which don't ask you to pay extra for them). In general, almost all of those competing locks make more sense than the Assure does.
A dated design
The Yale Assure smart lock looks like the gadget that it is, which might not be ideal if you're looking for something inconspicuous that won't advertise the fact that you have disposable income to spend on things like Bluetooth deadbolts.
Aside from adding in nodes on the bottom of the lock that'll let you power it with a 9V battery if the juice ever runs out, the Assure borrowsthe exact same build that we've seen from Yale's smart locks for years now. Either the team at Yale is extremely pleased with that design, or they haven't bothered to put any thought into refining it.
The latter would be a mistake given how competitive the smart lock category is getting. Just look at the Assure's closest rival,an upcoming keyless smart lock from Kwikset called the Obsidian. It features a modern, minimalist design and a slightly smaller interior footprint than the Assure, too. I know which one I'd rather bolt to my front door.
How to install a keyless smart lock
See all photos+20 More
Installing the Assure is simple enough, requiring only a screwdriver, some measuring tape and about 20 minutes of your time. That said, as with all smart locks,you'll want to make sure that your door is properly aligned before buying one. If you need to push or pull on the doorknob in order to turn the lock smoothly, then that's something you'll need to fix. You'll also want to make sure that the hole in your doorframe is deep enough for the entire deadbolt.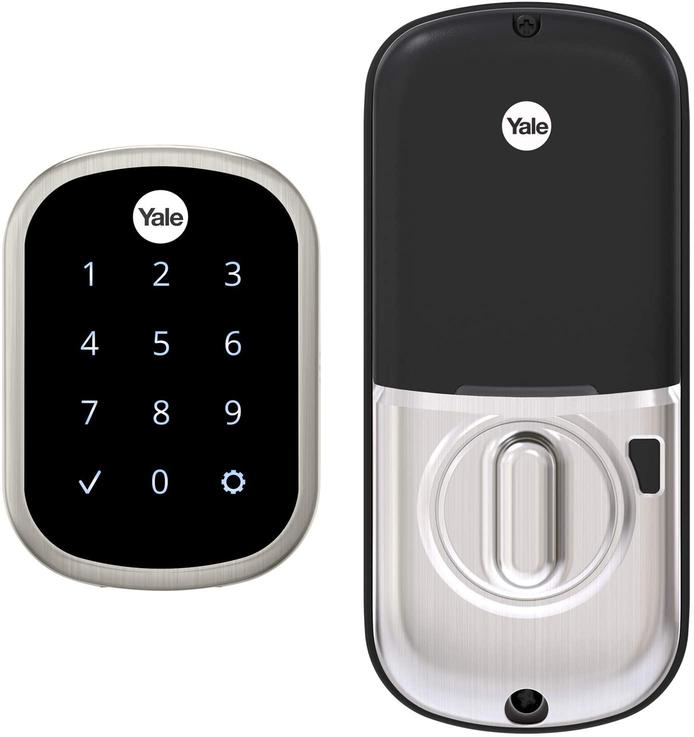 As for your phone, you'll need an Android device running Android 4.1 or later, or an Apple device running at least iOS 9.
An underwhelming app
Once the lock is installed, you'll jump right into the app to pair it with your phone and start assigning codes and managing access. You can create up to 12 codes for multiple users, then track who's coming and going in the app's history section. If you want, you can set time-specific access for certain users -- a code that only works on a certain day at a certain time for your dog-sitter, for instance.
The app also lets you create and send out "digital keys" that let you unlock the door with a single tap. At least, sort of.
With the app installed and the digital key accepted, you'll need to pull out your phone and either rotate it 90 degrees or tap a button on the app's homescreen,then tap the bottom left corner of the lock's touchpad. No, I don't know why you wouldn't just keep your phone in your pocket and use your code, either.
That "Twist N' Go" rotation mechanism for activating your digital key was a bit clunky when I tested it out. I wasn't always able to get it to work reliably, often needing to fling my phone into the landscape orientation two or three times before it'd activate.
By comparison, tapping the "Activate Keys" button on the app's homescreen worked like a charm -- but again, how is this any more convenient than using the touchpad like normal?
To make matters worse, you only get five of those digital keys. After that, each one costs you $1.99. It's not the biggest deal if you don't need to share access with a lot of people (and it's about what you'd pay to make a copy of a key at a hardware store), but I still think it's a mistakenly stingy strategy (and certainly stingier than the Kwikset Kevo, for which you only pay for scheduled keys, and August, which doesn't charge at all).
Bottom line: Expensive smart locks shouldn't charge their owners for the convenience of using them as intended.
The other big problem is that there's really nothing else that the app does aside from letting you manage access codes or use a digital key at your door. You can't see the current status of the lock, for instance, so if you're lying in bed and can't remember whether or not you locked the door, the app won't help you.
That leads us right to one last omission, and it's a biggie. The app won't let you lock or unlock the door from afar, even if you're within Bluetooth range. Like the finicky Twist N' Go feature, I'm sure that this is a result of Yale erring on the side of security rather than convenience, but it's still a bit of a head-scratcher given that remote locking and unlocking is pretty much a standard feature for connected deadbolts at this point.
The verdict
All of what I've written here adds up to a $200 smart lock with underwhelming smarts -- and as a result, one that you probably won't use that much differently from a plain old dumb lock. You can pay an extra $50 for a Z-Wave or ZigBee module that'll let you connect the Assure lock with a smart home platform like Wink or SmartThings, or, starting in April, pay an extra $75 for a module that'll make the lock compatible with Apple HomeKit and let you control it using Siri commands -- but why not spend less on a smart lock that offers those integrations straight out of the box?
If that's what you're after, Yale's own Z-Wave and ZigBee "Real Living" touchscreen deadbolts will do the trick, and for HomeKit, you could go with the Kwikset Premis, the Schlage Sense Bluetooth Deadbolt or the August Smart Lock. If you want a convenience upgrade, the Kwikset Kevo's touch-to-unlock smarts put the Assure's Twist N' Go feature to complete shame. All of those competitors will cost less than the Assure plus a module, and all of them are better reviewed, too. I wouldn't pick the Assure over any of them.