Chicago, March02, 2022(GLOBE NEWSWIRE) -- Oman data center market size is expected to grow at a CAGR of over 11.42% during the period 2021−2027. Oman aims to work toward generating 30% of renewable energy sources locally by 2040. The country is likely to add around 160 MW of power capacity during 2022–2027.
Oman data center market research report includes market size in terms of area, investment, power capacity, and colocation revenues. Get insights on 6 existing data centers and 1 upcoming facility across Muscat and other cities.
OMAN DATA CENTER MARKET REPORT SCOPE
| | |
| --- | --- |
| REPORT ATTRIBUTE | DETAILS |
| MARKET SIZE (REVENUE) | $470.8 Million (2027) |
| MARKET SIZE (AREA) | 162 thousand Sq. Feet (2027) |
| MARKET SIZE (POWER CAPACITY) | 34.5 MW (2027) |
| COLOCATION MARKET SIZE (REVENUE) | USD 45.5 Million (2027) |
| CAGR (REVENUE) | 11.42% (2022-2027) |
| BASE YEAR | 2021 |
| FORECAST YEAR | 2022-2027 |
KEY HIGHLIGHTS OFFERED IN THE REPORT:
KEY OFFERINGS:
Data center colocation market in Oman
Market Dynamics – Leading trends, growth drivers, restraints, and investment opportunities
Market Segmentation – A detailed analysis by IT infrastructure, electrical infrastructure, mechanical infrastructure, general construction, and tier standard
Key Market Participants – List of 11 IT infrastructure providers, 5 construction service providers, 12 support infrastructure providers, and 4 data center investors
Get your sample today!https://www.arizton.com/market-reports/oman-data-center-market
OMAN DATA CENTER MARKET– SEGMENTATION
Market Segmentation by Infrastructure Type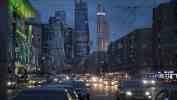 Market Segmentation by IT Infrastructure
Market Segmentation by Electrical Infrastructure
Market Segmentation by Mechanical Infrastructure
Market Segmentation by Cooling Systems
Market Segmentation by General Construction
OMAN DATA CENTER MARKET– DYNAMICS
In Oman, enterprises have traditionally maintained on-premises data centers for data storage to have more control over the data. Maintaining an on-premises data center also ensures that the data can be retrieved at a low latency by users in the same building. It also gives control on cybersecurity of the data center. In addition, many on-premises data centers could not cater to the additional data traffic. Many of them are built according to Tier II standards, and any power instability can affect data center operations severely. Due to the outbreak of the COVID-19 pandemic, many companies faced difficulties in managing on-premises data centers due to restrictions and lockdowns. To cater to day-to-day operations of data centers and handle any issues became a challenge due to unavailability or limited availability of trained personnel. In Oman, most government entities - private and public organizations process the data on on-premise facilities.
KEY DRIVERS AND TRENDS FUELING MARKET GROWTH:
OMAN DATA CENTER MARKET - EXISTING VS. UPCOMING DATA CENTERS
List of Upcoming Facilities in the region (Area and Power Capacity)
Get your sample today!https://www.arizton.com/market-reports/oman-data-center-market
KEY MARKET PARTICIPANTS
Construction Constructors & Sub-Contractors
Support Infrastructure Providers
Data Center Investors
Explore our data center knowledge base profile to know more about the industry.
Read some of the top-selling reports:
About Arizton:
Arizton Advisory and Intelligence is an innovation and quality-driven firm, which offers cutting-edge research solutions to clients across the world. We excel in providing comprehensive market intelligence reports and advisory and consulting services.
We offer comprehensive market research reports on industries such as consumer goods & retail technology, automotive and mobility, smart tech, healthcare, and life sciences, industrial machinery, chemicals and materials, IT and media, logistics and packaging. These reports contain detailed industry analysis, market size, share, growth drivers, and trend forecasts.
Arizton comprises a team of exuberant and well-experienced analysts who have mastered in generating incisive reports. Our specialist analysts possess exemplary skills in market research. We train our team in advanced research practices, techniques, and ethics to outperform in fabricating impregnable research reports.
Mail:enquiry@arizton.com