From supply and distribution, to roll-out and post-vaccination monitoring, digital technologies have been vital to the COVID-19 vaccination drive. But when it comes to actually putting needles in arms, a lack of internet access means many of society's most vulnerable and elderly risk being passed over.
Unequal access to high-speed internet and a computer or smartphone - as well as confidence navigating the web - can affect the number and type of people coming forward for vaccination. This is particularly the case in rural and older populations, as well as in developing countries, where this digital divide is often more acute. The digital divide also tends to be larger for women, which can have negative health outcomes for communities.
Without the internet, many people are unable to book vaccine appointments, and are unable to access reliable sources of information about vaccines and the virus.
Have you read?
Bridging the digital divide
South Africa, which is in the middle of a third infection wave fuelled by the Delta variant, has currently vaccinated just over 6% of its population with at least one dose.
Amid this slow roll-out, charities and churches are taking steps to ensure it's not just the rich and digitally connected that get a jab. Volunteers are helping spread information campaigns, talking to people about the need to get a vaccine, and dispelling myths. They are also helping people register, alongside social media campaigns encouraging the younger generation to register their grandparents. The UN children's fund UNICEF, meanwhile, has been sharing vaccination videos in local languages.
Vaccines, Health and healthcare, Gavi
What is the World Economic Forum doing about access to vaccines?
In 2000, Gavi, the Vaccine Alliance was launched at the World Economic Forum's Annual Meeting in Davos, with an initial pledge of $750 million from the Bill and Melinda Gates Foundation.
The aim of Gavi is to make vaccines more accessible and affordable for all - wherever people live in the world.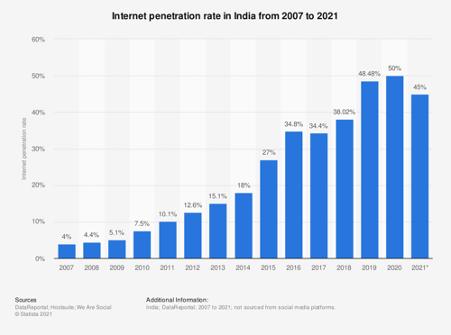 Along with saving an estimated 10 million lives worldwide in less than 20 years,through the vaccination of nearly 700 million children, - Gavi has most recently ensured a life-saving vaccine for Ebola.
At Davos 2016, we announced Gavi's partnership with Merck to make the life-saving Ebola vaccine a reality.
The Ebola vaccine is the result of years of energy and commitment from Merck; the generosity of Canada's federal government; leadership by WHO; strong support to test the vaccine from both NGOs such as MSF and the countries affected by the West Africa outbreak; and the rapid response and dedication of the DRC Minister of Health. Without these efforts, it is unlikely this vaccine would be available for several years, if at all.
Read more about the Vaccine Alliance, and how you can contribute to the improvement of access to vaccines globally - in our Impact Story.
In India, too, limited vaccine supply is being unevenly distributed, with many people unable to access the coWIN app which has been at the heart of distribution, or other booking systems that have since been developed. Concerns over vaccine safety and misinformation have also contributed towards hesitancy and low uptake.
The number of smartphone users in India is estimated to reach 760 million in 2021 - it's a large and growing market, but a small percentage of the overall population of 1.37 billion. And fewer than half of the population have internet access, with gender, socio-economic divide and ruralness all having an impact.
But richer nations, too, have been struggling with ensuring their vaccine roll-out reaches all sections of society. Senior citizens in the US, for example, are also struggling to book their vaccine slot. Only 64% of over 65s in the US had access to broadband at home as of February 2021, according to Pew Research Center. Pew also notes that Black and Hispanic adults in the US are less likely than white households to own computers or have internet access at home.
Access for all
The Edison Alliance, launched by the World Economic Forum, aims to prioritize digital inclusion by building partnerships between governments and industry. By building a network of networks, the project aims to identify and scale new and existing projects, leveraging connectivity as a key tool in achieving the UN Sustainable Development Goals.
"There has never been a time as crucial as now for increased collaboration between public and private sector and across all sectors of the economy," says Isabelle Mauro, Head of Digital Communications Industry at the Forum. "This is why the World Economic Forum launched The EDISON Alliance with the vision for every person to affordably participate in the digital economy."
Among the many steps governments have been taking to improve digital access during the pandemic, Colombia has modified its transportation assistance subsidy, allowing home-based workers to instead use the financial assistance to get online.
The government of Singapore, meanwhile, has established a Home Access Programme, which provides 20,000 eligible households with subsidized broadband connections, among a number of other measures to increase digital uptake.