The spooky season is officially here, and now is the time to give your Halloween decorations a smart home upgrade. Using the devices you already have, or a few new ones you've been wanting to get your claws on, you can spook smarter, not harder. From haunted house sound effects and lighting inspired by your favorite scary movies to spooky surprises around every corner, these Halloween decorating ideas are all about creating tricks and treats with your smart home devices.
1. Choose a Creepy Sound for Your Video Doorbell
The standard Ring Doorbell chime or Google Nest ringtone has got to go for the Halloween season. Instead, choose any of the frightfully fun sounds available for both devices. From bats, ghosts and howls to a creepy laugh, a screeching cat or a creaky door, you can choose the sound that best fits your haunted home. Plus making the switch to a spooky sound is easy to do on both devices.
Here's how to change your Ring Doorbell sound:
Here's how to change the sound on your Nest Doorbell:
2. Cue the Haunted Playlist on Portable Speakers
Grab your Bluetooth speakers and move them outside on Halloween. Position a speaker behind some of your larger decorations or hide it in a tree or bush and play scary sounds on repeat throughout the night. If you are in the mood to dance, cue up a haunted playlist that will get visitors moving and grooving as they pick up their trick or treat goodies. From Thriller to The Monster Mash, your Bluetooth speakers will inspire the soundtrack of Halloween.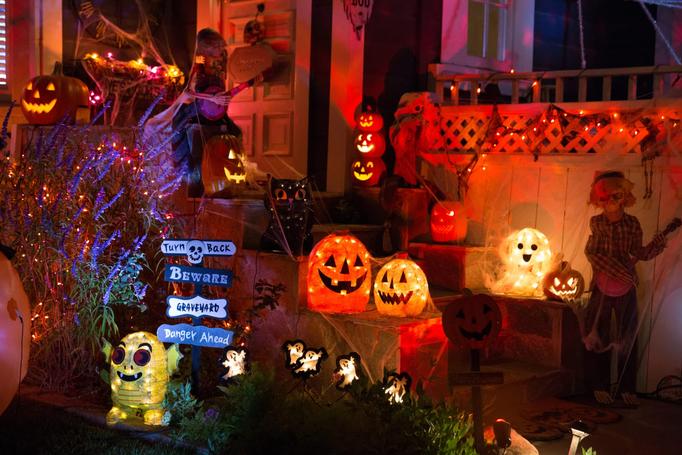 No time to create devilishly fun tunes? Devices like Echo Dot and Google Nest Minis already have haunted soundtracks ready to go. Move the devices around your home or hide them outside in your Halloween decor. When you're ready for the music, simply say "Alexa, play a Halloween playlist" or "Hey Google, get spooky." The music will play until you tell the devices to stop.
3. Gather Around for Spooky Stories on Alexa
Get the whole family ready for Halloween with a few spooky stories with the help of your Amazon Echo. For a kid-friendly Halloween tale, just say "Alexa, tell me a spooky story" and you'll hear funny and not-so-scary stories that are perfect for the entire family. However, if you want to spice up the story when your little ghosts and goblins aren't around, simply say"Alexa, ask Boo Bot for a scary story," and you'll hear a reading from Short Scary Stories from Reddit.
4. A Smarter Fog Machine
Give your outdoor Halloween decor an eerie upgrade by adding a fog machine. Normally you would add "fog juice" and just let the machine run on its own. While the fog creates a ghostly Halloween ambiance, adding a smart solution will make your fog last longer and make the effect more fantastic. Start by using a smart plug to power up your fog machine so you'll be able to adjust the billowing fog from an app on your phone when trick or treaters arrive or leave your home.
Another option is to attach a motion detector to the fog machine so as people approach your house, the fog will begin to pour out and your visitors will get a fun surprise.
5. Project a Halloween Classic
If you're hosting a Halloween party, or are just looking for a spectacular show for trick or treaters, projecting a movie onto your house, or a DIY screen, will make your home the creepiest and coolest on the block.
You'll need a portable smart projector that is positioned outside to project the movie onto your home or garage. Just be sure you have chosen a flat surface without any windows or doors.
You can also create a movie screen by hanging up a white sheet on string or attaching the sheet to the outside of your home. Then, choose a movie from a streaming service like Nextflix or Hulu and let the projector play the movie on a loop throughout the night. Just be sure that the movie you choose is family-friendly if you'll have little ones joining in on the hauntingly fun night.
6. Create a Spellbinding Smart Light Show
Add some hocus pocus with your smart bulbs inside and outside of your home. From changing the colors of your lights to match your Halloween decor to set the mood for a night of watching scary movies, smart lights will help level-up your home's spook factor. With the touch of a button, your regular lights can transform into a ghoulish green, possessed purple, or an occult orange. While dark and spooky is a must for Halloween, turning up your smart bulb to the brightest white can also create a startling effect and backdrop for your Halloween setup.
If you want to recreate some of the scary movie special effects, try backlighting your Halloween decor. Start by placing the smart bulbs behind the decorations you already have hanging up and choose different colors to illuminate your monsters, skeletons and witches. Spooky backlighting can be done inside and outside your home, and works best if the area around the decorations is dark. The shadows and light will transform your regular Halloween decor into glowing creatures and leave a frightening effect.
7. Outdoor Smart Plugs that Work Like a Mad Scientist
You've done all the work to set up light displays and Halloween inflatables outside of your home. Now make sure they are turned on every night when the sun goes down and turned off before the sun rises and all the monsters head back inside. By plugging all of your outside lights and gear into an outdoor smart plug with a timer, your haunted house will be powered up without you having to press a button.
8. Jazz Up Your Jack-o-Lantern
After carving your pumpkins, you'll want them to shine on Halloween, but a regular candle isn't a safe option, especially if you've got trick or treaters headed to your home. However, a portable LED light allows you to keep your jack-o-lantern glowing safely every night. You can also change up the colors inside the pumpkin and set a timer on the lights.