You can also save yourself a lot of confusion and aggravation bychecking out our instructions on how to install a dash cam.
Best dash cams overall
1. Cobra SC 400D
SRP:399.95Best PricesToday: $399.95 at Amazon | $399.95 atCobra
Our recent review of the Cobra SC 400D left us smitten. It'spricey, yes, but it delivers with stunning images—4K for the front,1080p in the rear—day or night, has a crisp 3-inch screen, and canbe expanded with a 120-degree FOV cam for the interior.
Read our full Cobra SC 400D review
2. Nextbase 622GW Dash Cam
MSRP:$399.99Best PricesToday: $299.99 at Best Buy | $399.99 at Nextbase |$499.99 at Amazon
Not only does the 622GW accept the company's versatile rear viewmodules, it takes the most realistic, detailed night videos we'veever seen—by far. Throw in drive mapping, a wonderful 3-inchdisplay, plus emergency response to accidents, and you have awinner.
Read our full Nextbase 622GW Dash Camreview
3. Viofo A129 Pro Duo
Best PricesToday: $249.99 at Amazon
Another of the 4K-front/1080p rear camera setups, the Viofo A129Pro Duo was the first to win us over to the benefits of 4K. It'sbeen matched in those abilities by newer models, but the A129 comesat a competitive price that can't be ignored.
Read our full Viofo A129 Pro Duo review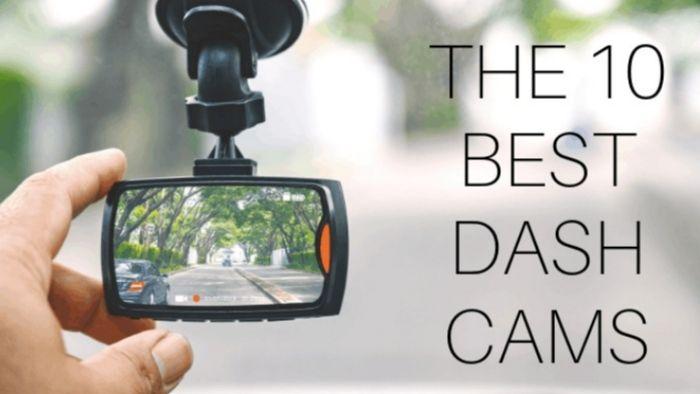 4. Nextbase 222X Dash Cam —2 Budget option
Best PricesToday: $45.00 at Amazon |$139 at Walmart
If you really want to save money, this Walmart-exclusiveNextbase 222X front-and-rear camera duo offers great value. The1080p/720p video is a compromise, but video quality was good, ithas a nice magnetic mount, a clear 2.5 screen, and abattery-supported parking mode.
Read our full Nextbase 222X Dash Camreview
Best front-only dash cam
1. Garmin Dash Cam 57
MSRP:$229.99Best PricesToday: $229.99 at Amazon | $229.99at Garmin
This small but mighty front dash cam has it all: great 1440pvideo with a 140-degree field of view; integrated GPS and drivingassistance; good phone connectivity; an easy and convenientmagnetic mounting system; and the backing of Garmin's goodname.
Read our full Garmin Dash Cam 57 review
2. Thinkware F200 Prodash cam — Budget option
MSRP:$139.99Best PricesToday: $109.99 at Amazon | $109.99 at Best Buy | 109.99 at Thinkware
Our budget pick for this category is no slouch. Thinkware's F200Pro sports a very svelt profile, the better for remainingunobtrusive. Beyond that, it's one heck of product, worth theslight premium over rock-bottom budget models.
Read our full Thinkware F200 Pro dash camreview
Best front/interior dashcam
1. Garmin Dash Cam Tandem
MSRP:$289.99Best PricesToday: $289.99 at Amazon | $299.99 at Best Buy | $299.99 at Garmin
Garmin's front/interior camera is easy to install, features acompact body that helps it avoid detection, and has an excellentmagnetic mount—all useful features that make up for the average1440p/720p video capture quality.
Read our full Garmin Dash Cam Tandemreview
2. Cobra SC 201 SmartDash Cam — Budget option
MSRP:$179.95Best PricesToday: 159.95 atCobra | $159.99 at Best Buy | Not Available at Amazon
Dash cams are all about capturing the action, and few do itbetter than the front/interior Cobra SC 201 Smart Dash Cam(currently $179.95 onAmazon). The exterior night video, especially, is unsurpassedin its ability to show details in dark surroundings and it offers alaundry list of features including GPS and cloud uploads. Thecompany even includes a 16GB SD card. It's well worth the money forwhat you get—just don't try to use the cloud functionality with anolder phone OS. Read our full review.
Read our full Cobra SC 201 Smart Dash Camreview
Most stealth dash cam
1. Garmin Dash Cam Mini 2
MSRP:$129.99Best PricesToday: $129.99 at Amazon | $129.99 at Best Buy | $129.99 at Garmin
This is the smallest dash cam on the market that we know of.Definitely the top choice for anyone who wants their dash cam toremain discreet. But it's small size doesn't mean it's lacking infeatures. It's 1080p front video is good day and night; the cam canbe controlled via voice commands or using the paired smartphoneapp; and it's affordable. We can sacrifice the GPS for theseperks.
Read our full Garmin Dash Cam Mini 2review
What to look for in a dashcam
We'll step you through what to think about when you're shoppingfor a dash cam, from video capabilities, recording options, powerconnections, and more.
Video capabilities
Recording options
Power connections
Something most people don't consider before they buy is thatdash cams connect to a power source in your car via a physicalcable. That cable can sometimes be tucked out of the way, but morelikely than not you'll have loose cable hanging somewhere. You cansometimes fix this with a longer or shorter cable (or aprofessional installation). Keep that in mind as you consider yourpower options:
Other handy features
How we test dash cams
Few people are as well situated geographically as I am to testdash cams. Within two blocks there are major four- and six-lanethoroughfares, numerous bike lanes, joggers, dog walkers, obliviousear-budded pedestrians, and a major bus nexus serving both publicand private coaches. The opportunities for near-accident areendless.
For every dash cam, I mount it in my car, judging the ease andconvenience of doing so. Tip: Many dash cams rely on adhesive formounting to your windshield. Hot conditions can make it next toimpossible to remove the film that protects the adhesive. Removethe film in a cool environment, or place it in the fridge for aminute or two before installing it.
I put each dash cam through several days' and nights' worth ofdriving, recording video and judging the image quality. All thedash cams I've reviewed in the last couple of years take gooddaytime video. However, night video is often plagued by murkyshadows and headlight flare. That said, quality is improvingrapidly with the introduction of new sensors. Take a close look atthe night shots in each review.
I try all the features: Buttons, display controls, apps. Asidefrom rear-view support and GPS, the most salient differencesbetween the products are the interface controls and extra features,such as the lane departure and collision warnings that you get withsome models. I try them…and I turn them off. In practice, theyusually tell me I'm changing lanes, in heavy traffic, or have justbeen cut off. Additionally, the collision warnings generally cometoo late to do anything but distract you at exactly the wrongtime.
Note that the one thing I can't relate to you is longevity, asmy testing occurs over a relatively short amount of time. Pleasecheck user reviews on various sights and pay attention to thewarranty.
What's next in dash cams
Dash cams have plenty of room to evolve. As nice as dual-channelis, there's talk about true 360-degree video. Check out TechHive'sreview of PowerDVD 16's 3D playback to see howcompelling that can be.