Making your home a smart home is easier than ever, but buying smart appliances is expensive. Not only that, there are concerns about longevity, both in terms of reliability and future support. Could that fancy smart fridge of yours lose support for its apps just five years down the line? With the fast pace of technology, it's entirely possible.
An easier, cheaper, and arguably better way to make your home a bit smarter is a smart plug, which can do rudimentary on/off via an app or your voice, schedules, timers, and more. Even if you buy a new device, you can just plug it into your existing smart plug and make it work. And hey, if you buy a new smart appliance, you can always use the smart plug somewhere else. This is where the Gosund 16A Smart Outlet shines.
While most smart plugs will do lights just fine, appliances are a bit more demanding. Things like microwaves, toaster ovens, AC units, and some big coffee makers can draw well over 1000 watts, some up to 2000. Many of these smart plugs are rated at a maximum of 10 amps or 1200 watts, and you don't want to be pressed right up to that limit. The Gosund 16A Smart Outlet can take almost 2000 watts, which is the limit of an average residential circuit. So whatever it is, this smart plug will handle it.
And despite the power rating, the Gosund smart plug remains fairly slim. It's wide, but you can fit two of them on a single outlet. You can also fit a bunch on a power strip. Some smart plugs are so bulky you can only install them on the bottom plug, or even block another plug. And with something plugged in, the power button is easily accessible on the front. Click it if you don't want to use your voice and your device will turn on or off instantly.
In terms of function, the Gosund plug has most of the features you'd find with the competition. However, the app itself is less polished than an app like TP-Link's. You have to download the Smart Life app, which has a QR code in the instructions. Adding a new device was a bit of a problem, though I eventually got it figured out. Scanning failed but a manual search worked. Once the plug is configured, things get much smoother.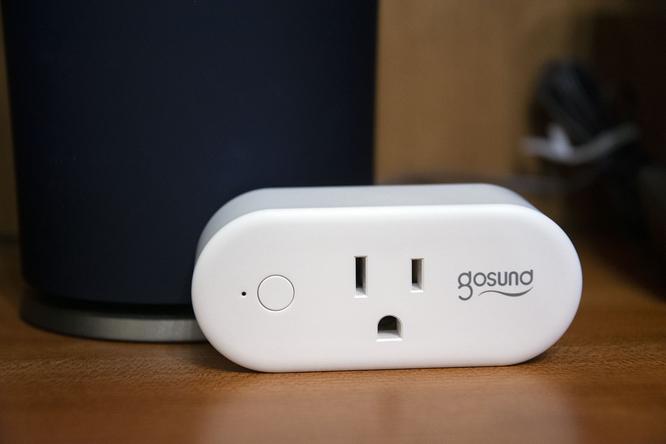 You can set schedules, which is great for turning your lights on and off or turning your coffee maker on in the morning, and you can set timers so the device automatically turns off after a certain time. There are infinite uses for this, including some very creative ones.
My living room light turns on at 6 PM when it starts getting dark, and turns off at 11 PM when no one is there. I never have to switch it myself. I also have a dehumidifier run itself downstairs so I don't have to remember to turn it off. Even though it has various functions and timers built in, the smart plug turns it on and off just fine.
Once you've set up your plugs and whatever schedule you want, you can connect your Smart Life account to your Google Home app. Once you do, you can directly control the smart plugs by name. "Turn off the dehumidifier" was a mouthful, so I renamed the plug to Sahara. "Turn on the Sahara" works a treat! These smart plugs also work with Alexa, if you're not on the Google Assistant train.
The best part about these smart plugs is the price: At $26.99 for a two pack, they're substantially cheaper than the competition. And if you don't need the high power and want to just control some lights, the 10A versions are only $8.99 a piece.
So even though the app isn't quite as streamlined as some of the name brands, these smart plugs function flawlessly and Google Assistant and Alexa support means you'll never have to use the app anyway. Pick some up and start turning your home into a smart home!
Buy on Amazon