Video
Andrew O'Hara| 2 CommentsFacebookTwitterReddit
AppleInsider is supported by its audience and may earn commission as an Amazon Associate and affiliate partner on qualifying purchases. These affiliate partnerships do not influence our editorial content.
CES 2022 was our first look at some of the new Matter and Thread HomeKit products, and we spent most of our time at the show on them. Here's what to look forward to.
Belkin
Belkin had some new stuff to show off at CES 2022, as well as a software update to one of its existing products released in 2021.
Wemo Smart Video Doorbell
Making the most noise during the show was the new Wemo Smart Video Doorbell. This features an astonishing 178-degree field of view, HomeKit Secure Video, and works exclusively with Apple's smart home platform.
In person, the Wemo Smart Video Doorbell looks thick, but it also is shown mounted to the side of the door with an angled base that adds some depth. Otherwise, the button is large and easy to press with a white backlight to clarify its function.
Belkin Wemo Smart Video Doorbell
Compared to other HomeKit doorbells, the Wemo Smart Video Doorbell has the widest field of view to date, allowing much more coverage of your porch. The company said they wanted you to be able to see everything from someone approaching from afar, your doormat, or someone's closeup face.
As it works with HomeKit Secure Video, you can set activity zones from within the Home app, customize your recording options, and store your recordings in iCloud at full 1080p HD. HomeKit is also able to tap into your Photos app for facial recognition.
The Belkin Wemo Smart Video Doorbell is available now from Belkin for $249.99
Stage scene controller
Wemo Stage scene controller
In 2021, Belkin released the Wemo Stage scene controller to provide yet another physical control for HomeKit users. One of its promised features was support for Thread, but the update didn't arrive as early as expected. Now the long-awaited update is finally rolling out.
Users can head to the Home app —the first accessory to perform updates through the Home app —to update the Stage scene controller. The new update has started rolling out in waves, with all users expected to have it by the end of the month.
Thread, rather than Bluetooth, is far more responsive and will deliver a vastly improved user experience.
You can pick up the Stage scene controller now from Belkin for $49.99.
New Thread devices
Wemo devices getting Thread
Later this year, Belkin will be introducing all-new versions of many of its popular Wemo devices. New versions of its smart plug, dimmer, and wall switches will be available to support Thread and Matter fully.
The existing models from a few years ago don't have the requisite Thread radio, so new versions are necessary.
Visit Belkin's site to explore the lineup of Wemo devices as they become available.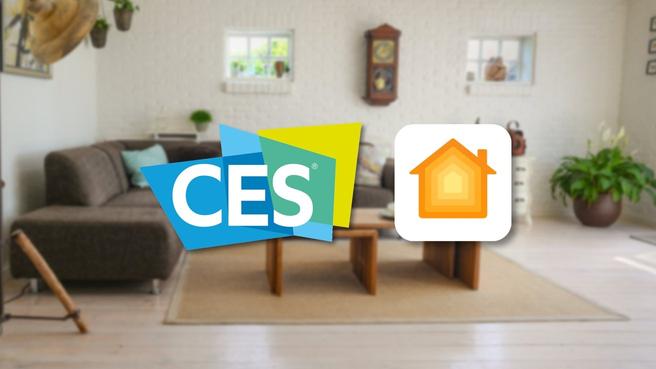 Eve
Eve canceled its CES appearance at the last minute due to Covid concerns, so we didn't get to check them all out, but we did get to see one of them. The company announced its Outdoor Floodlight Camera and the availability of its smart blinds.
Eve Outdoor Floodlight Camera
The Eve Outdoor Floodlight Camera is a first for the HomeKit space. Currently, it is the only floodlight camera on the market that works with HomeKit and supports HomeKit Secure Video.
The new Eve Outdoor Floodlight Cam
In total, the Eve Outdoor Floodlight Camera will show as three accessories in the Home app. You'll have an adjustable floodlight, a motion sensor, and a camera with two-way communication.
It's set to be released in the first half of 2022 and is priced at $249.
Eve MotionBlinds
Eve has announced that its Thread-connected MotionBlinds are available globally. Being sold through multiple retailers, the Eve MotionBlinds are fully customizable and made to your window's specifications.
Eve MotionBlinds
We did get a chance to demo this early, and they're an incredible new addition to the smart home. If you'd like to learn more or order your own, check out our full review.
TP-Link
TP-Link has continued to rebuff HomeKit with its Kasa line, but now it seems to be embracing Apple's platform with its Tapo line. Expanding from Europe, the Tapo line will include several HomeKit-enabled products.
At CES, we saw the TP-Link Tapo E200 smart thermostat. This thermostat supports remote sensors, allowing it to heat the room you're in to help save energy. It also sports "Hello mode" that identifies when you're home to only turn on the heat or AC when necessary.
TP-Link Tapo thermostat
The device looks great, with a mirror-like finish on the left side and a matte white sensor on the right. As the mirrored surface is reflective, it helps take on the look of any room you place it in. The display is hidden behind this mirror to appear when you need it.
TP-Link also announced other HomeKit products, such as a smart plug and smart surge protector.
ThinCast
The ThinCast Smart Two is a unique, connected mirror that conceals a touch-screen tablet behind its reflective surface. There is a floor-standing model as well as a wall-mounted vanity model. Both models can be connected to an AC power source or run off an optional battery pack.
ThisCast Smart Two
What makes this HomeKit is that it supports AirPlay 2. You can mirror your iPhone, iPad, or Mac to the display, and you can cast audio too. While you get ready in the morning, you can play your favorite playlist, or you can catch up on a TV show.
It shows in the Home app and can be included in various HomeKit scenes and automations like other AirPlay speakers.
ThinCast Smart Two AirPlay 2
You can order your now from Capstone Connected starting at $799.
Nanoleaf
Nanoleaf has announced a new software update coming to its Elements, Shapes, and Lines that will enable them to act as Thread border routers for HomeKit devices. These will be the first third-party accessories with such functionality.
Nanoleaf will be a Thread Border Router
A Thread border router is necessary to bridge your Thread-enabled devices to your network. They can be from any manufacturer, including Nanoleaf, Eve, and Belkin.
Roborock
Roborock's new vacuum
Roborock introduced what could be the most advanced robotic vacuum we've seen to date. The Roborock S7 MaxV Ultra is a combination vacuum and mop. It uses advanced AI to determine when it is on a hard floor versus a rug or carpet. When it approaches the rug, it will lift the mop to prevent it from getting wet.
When it returns to its base station, it will automatically empty the dust collector and remove the dirty water. A scrub brush will clean the mop on the bottom of the vacuum before reloading the water tank with fresh H2O.
Roborock can mop, but avoid getting carpet wet
Even though HomeKit doesn't support vacuums natively, the Roborock S7 MaxV Ultra supports Siri Shortcuts. You can ask Siri to vacuum the living room, and you can include it in any scenes you create.
New HomeKit support
Aura Air got HomeKit
Aura Air announced at CES that its namesake device received a new firmware update to support HomeKit. This update has been expected for some time now, and we're thrilled that the update has landed.
Mila previously promised HomeKit support and has updatedAppleInsider on its progress. The company says the work on HomeKit is largely done, and they're awaiting final certification. HomeKit will be arriving on its existing air purifier via an over-the-air firmware update.
More to come
These products only represent a drop in the bucket of what will inevitably be released this year. Some companies announced products but didn't have on-hand to show off at CES.
Twinkly announced Dot —a new USB-powered multi-colored LED strip light that can be controlled via HomeKit. Sengled also has new motion, water, and contact sensors that will work via HomeKit. Aqara has two new Thread sensors coming in the second half of 2022.
This year is also when the Matter standard is expected to be released. Many manufacturers have pledged support for the standard, including Philips Hue, Belkin, Eero, Nanoleaf, Eve, and more.
At CES 2022, we saw our first Matter demo from Nordic Semiconductor. It demoed its Thread-connected weather station alongside a smart bulb, an Eve Energy, and a Yale lock.
The demonstration proved that users could control it all through Matter using a Google Nest Hub. It was a welcome change to see the HomeKit-specific Eve Energy be controlled through a Google smart speaker.
Matter changes the home automation game and opens up opportunities for more products, and better control than users have seen yet from any platform. We're expecting to see much more smart home content coming in 2022.
---