Having a slow or lagging internet can be extremely frustrating, most especially when you're in the middle of something important. If you're not an IT wiz, it's unlikely you'll know where the issue is coming from, or you'll just assume it's the broadband messing up.
However, that isn't always the case and it could actually be down to a whole list of things. We've listed some expert tips to help you fix the problem quickly.
Pre-checks for broadband problems
First, you need to establish whether it's the internet connection itself that's the issue of whether it's the device you're using to access the internet.
So, grab another device and see if the issues are the same on that. Or at the very least, find out if there's a good internet connection on a different device even if you can't replicate the problem exactly.
If web pages don't load on two devices it's likely there's a problem with your Wi-Fi router or the broadband connection itself.
Don't have a different device to try? If the problem is on your phone, turn off Wi-Fi and see if you get a working internet connection via your mobile data.
Second, check that you haven't got a VPN connection enabled on your device. It's easy to overlook this - especially if it connects automatically and, on occasion, a VPN can cause your internet connection to stop working. Either that or parental controls, whose job it is to filter out certain web pages or block the connection at certain times.
Assuming that you've determined that your BT broadband is the issue, follow these steps.
1. Reboot your router
One of the most effective tricks is the easiest. Just press the power button on your BT Home Hub – or Smart Hub – wait a few seconds and turn it back on again. (No power button? Just unplug the power cable, wait a few seconds and plug it back in.) Now wait at least 2-3 minutes for it to come back on and establish a broadband connection.
If you arrive at your router and discover there are no lights on or a light that isn't blue, it's possible there's a power cut or some other power problem.
Assuming the main LED is on, here's what the colours mean (applies to Hub 4 and 5):
If you have a Smart Hub, look for these colours: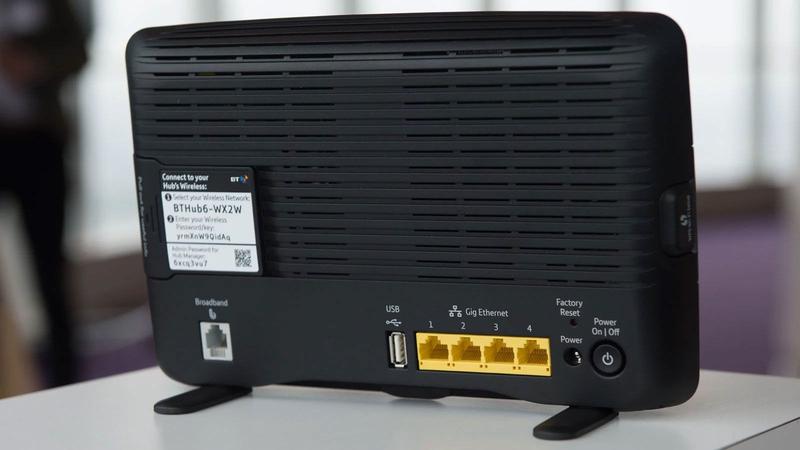 If restarting your Hub doesn't help, check all the cables, particularly the one which connects your router to your phone socket. Ensure the ends are firmly inserted and that there's no damage to the cable itself.
2. Check BT Broadband status
If the LED shows there is no connection, the next thing to check is whether there's a problem in your area.
That's easier said than done if you have no internet connection, but if you do have a smartphone, turn off its Wi-Fi and use mobile data to find out if BT is down in the local area.
3. Try a wired connection
If the light on your Hub is blue, indicating all is well, it could be a Wi-Fi issue. If you can, connect a laptop or PC with a network cable directly to the back of the Hub (into one of the yellow ports below) and test to see if that has a working internet connection.
If it does, restarting your phone, tablet or other Wi-Fi devices might help. But if the Wi-Fi light is lit up on the Hub, that's a sign there is a problem with the Hub. Usually, a yellow Wi-Fi LED on the Hub means that Wi-Fi has been disabled, or at least one of the two radio frequencies is turned off.
To fix this, you need to log into the admin section of the Hub: remove the slide-out tab from the rear which will display the admin password.
In a web browser type 192.168.1.254 in the address bar and press Enter. As long as you haven't changed the factory settings this should take you to the management page where you can either click on 'Advanced' (Smart Hub) or 'Settings' for Hub 3, 4 and 5.
Look for the Wi-Fi settings and make sure it's enabled for both 2.4GHz and 5GHz. The default setting is to merge the two together so you see only one network name.
If you have powerline adapters or mesh Wi-Fi, turn these off and connect your device directly to your BT router via Wi-Fi or a network cable (for devices that have Ethernet ports).
4. Try the BT test socket
Your internet woes might be caused by some bad wiring in an extension cable or something else.
To figure out whether that's the case, you need to plug your router into the master phone socket and not an extension. If necessary, attach an ADSL filter to the socket (if there's just one socket there, it'll be shared between your landline phone and BT router, so a filter is needed).
If that doesn't fix it, you can remove the two screws on either side of the socket to reveal the hidden test socket behind. Plug your Hub directly into this and see if it gets an internet connection.
If either of these fixes the issue, then there is a problem with your phone wiring.
5. Try your landline
BT Broadband – even some fibre packages – needs a working landline, so pick up your receiver and see if there's a dial tone. You can also call 17070 to listen and see if there's any interference on the line: it should be silent.
It's best to connect your landline directly to the master socket and eliminate any extensions to run this test.
If you find there is no dial tone or a noisy line, you can report a fault via the My BT app on your mobile phone or by logging into your account via the online troubleshooter. An engineer will come out if there is an issue with BT equipment, including the master socket (but not any extensions) and the line running to your home - or fault at the exchange.
And if the problems can't be fixed here's how to cancel BT Broadband and find the best broadband deals.