The best just keeps getting better. Although it has very little competition, the Logitech Harmony Elite remains the top remote control you can get for managing not only your entertainment system, but all of your smart home devices, too. At $349, it's not cheap, but you'll never want — or need — to use another remote again. That's why it's our top pick on our best universal remotes page.
Logitech Harmony Elite review: Design
After keeping roughly the same shape for the past two generations of the Harmony Elite, Logitech redesigned the device. Now, the remote is much more square, and it lacks the softer edges and curved underside of the Harmony Ultimate. I prefer the shape of the older remote, as it fit more comfortably in my hand. The new Elite is also markedly heavier, at 5.85 ounces — more than an ounce heavier than the Ultimate (4.8 ounces).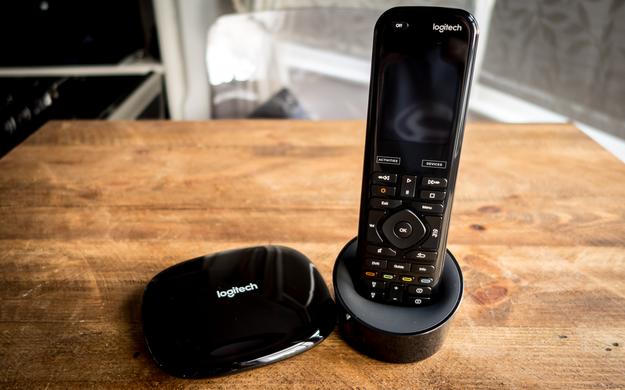 Still, the Elite has the same soft-touch finish on the bottom, which not only feels great but also keeps the remote from slipping out of your hand.
As on previous generations of the device, the front of the remote has a large color touch screen as well as a number of buttons. There are several very welcome changes, though. The so-called transport buttons (Play/Pause, Fast Forward, Reverse, Record and Stop), which were above the display on the Harmony Ultimate, have been moved to the bottom of the display. They're now a lot easier to reach; before, you had to slide the remote down your hand, which was a bit of a pain.
The Elite remote has a few new buttons at the bottom that you can program to control connected home devices, such as Philips Hue lights and switches. Previously, you could only change these through the touch screen. It was a real treat to be able to dim the lights with just one press of a button — and to do so by feel — rather than having to navigate through touch-screen menus.
Just as integral to the entire setup is the Harmony Hub, a small, circular device that relays commands from the remote to your entertainment system. The Hub also connects to your Wi-Fi network to link to smart home gadgets. The hub can be hidden in a cabinet, and comes with two wired IR blasters that you can position in front of your TV, stereo or other equipment.
Logitech Harmony Elite review: Setup