The best air fryers will allow you to make a range of foods including chips, chicken, and doughnuts quickly and easily, and without the associated saturated fat of alternative cooking methods. We've rounded up and tested the best air fryers available to help you choose the right one for your home.
Air fryers will help you achieve the perfect crunch and color of fried food without the need for excess oil or fat. As the name suggests, air fryers use a convection of air to evenly cook food for a crispy and juicy result. And fried food isn't all they do—they often have options to dehydrate food, giving you healthy snacks like dried fruit, while other machines will even allow bake cakes in their mini ovens—so it's worth weighing up what you need from yours.
For busy people who need meals made fast, the Ninja Foodi MAX Dual Zone Air Fryer is the perfect solution: we literally had a meal made in ten minutes with this gadget. We tested using the dual-controls and both sides worked well to produce super moist chicken on one hand, and perfectly crisped sweet potato fries on the other. The ability to use different temperatures and different timings for both opens up the capacity to transform the way you use an air fryer. Each drawer works in conjunction with one another though, so that your food is ready at the same time.
This model is at the more expensive end of the scale, but if you're going to get the most out of the various functions, then we think it's worth the splurge. Additional features include the ability to roast, bake, reheat, dehydrate and an additional option which we haven't seen elsewhere—max crisp (for super golden chips, in our experience). Despite its bulky size, we found food cooked best in a single layer, so we reckon this model would suit a couple rather than a big family. In the era of touch screens, the control wheel also took a bit of getting used to and dulled the shine ever so slightly on a product that otherwise felt pretty premium.
2. Tefal YV970840 Actifry Genius XL 2in1
Best air fryer for families
Specifications
RRP: $379 / £284.99 Capacity: 1.7kgDimensions: 47 x 32 x 26cmPower: 1500WMaximum temperature: 180CWeight: 5.1kgFunctions: Fry, simmer, stew, bake, roast
Reasons to buy
+Sleek design+Makes the best chips of any we tested+Paddle that rotates food for hands-free cooking+Dual cooking function
Reasons to avoid
-Large-Expensive-Gets hot while cooking
Tefal's air fryer is better than most thanks to one seemingly simple addition—a paddle. This one tweak to the standard design means food is moved around the base of the bowl continuously, which in turn equals easy, hands-off cooking. Ready to cook immediately, this model has both auto-settings and manual functionality, so you can either just simply press the button for chips, for instance, or toggle the time and temperature depending on preference. The box also includes a quick-fire setup and recipe booklet to get you started quickly and easily.
While the base has the paddle, there's also an additional layer where you can cook larger items that don't need to be moved so frequently, like meat or fish. The two can be programmed separately and there's room for up to six portions per section. We loved being able to put together an entire meal in the one kitchen gadget, and the resulting chips were some of the best we trialed with even, golden coloring and an amazing crunch. They do take half an hour where others take as little as ten minutes—but we reckon it's worth the wait. You don't have to just fry in this either, you can simmer and stew one-pot recipes too, thanks to the paddle attachment which keeps everything moving as it cooks through. Little extras like the included measuring spoon give this the edge, with no detail too small for consideration. The removable parts are dishwasher-safe too, which makes for a quick and easy tidy up if you're wondering how to clean an air fryer.
The clear lid enables you to see the food as it cooks, but it does build up fingerprints over time that have to be wiped with a damp cloth. Also, the exterior got very hot during cooking. But given that they were our only complaints, we're pretty confident in recommending this as a great all-rounder for a family.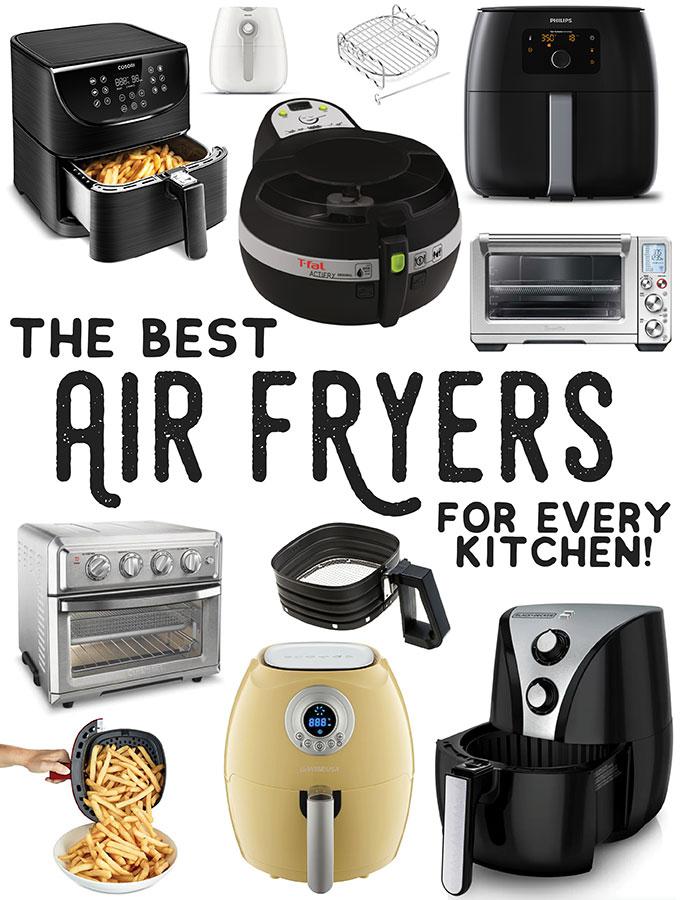 3. Instant Pot Vortex 4-in-1 Air Fryer
Best budget air fryer
Specifications
RRP: $130 / £100Capacity: 5.7LDimensions: 31.4 x 32.6 x 37.9cmPower: 1450-1700WMaximum temperature: 200CWeight: 5.4kgFunctions: Frying, reheating, baking, roasting
Reasons to buy
+Relatively lightweight+Easy setup process+Simple pre-program options+Can roast a whole chicken +Backspacer means no overheating
Reasons to avoid
-No recipe book included in box-No auto-setting for chips-Strong plastic smell initially -You have to shake chips every five minutes
Not all air fryers are created equal, and spending more doesn't necessarily mean you're going to get the best air fryer. This clever piece of kit from the Instant brand comes in around $130 (£100), and beat plenty of pricier models to make it to our list. Setup was very simple (you basically plug it in and go), and both the removable basket and tray are dishwasher safe for quick and easy cleaning. The matte finish meant no oily finger marks were visible and the only thing which could be a potential irritant is the stainless steel handle, which could—we imagine—get a little grimy over time if not polished regularly.
While many competitors focus their offering on freezer favourites like fish fingers or chips (kitchen essentials!), the Instant Vortex provides home chefs with enough room to cook a small roast chicken in (and the results are surprisingly succulent) and can bake, roast and reheat too. Fries cooked in just 20 minutes and used only two teaspoons of oil, meaning they were relatively healthy and quick when compared to other models. And results were super crisp, thin French fry style chips.
Slight niggles included having to download the app to get cooking instructions before we began (there's no accompanying leaflet), and the fact that you had to shake the basket every five minutes while the chips cooked to get even results—not the hands-off cooking dream we were hoping for. Overall though, we thought for the variety of functions this model offered it was surprisingly compact and lightweight, making it perfect for small kitchens and those on a smaller budget.
4. Philips Airfryer XXL
Best luxury air fryer
Specifications
RRP: $399 / £299.99Capacity: 7.3LDimensions: 43 x 32 x 31cmPower: 2225WMaximum temperature : 200CWeight: 7.99kgFeatures: Fry, grill, roast, bake, reheat, keep warm
Reasons to buy
+Sleek design+Plug tidy for neat storage+Top-class cooking results+Large basket, roomy enough for a whole chicken+Quiet+Dishwasher safe inserts
Reasons to avoid
-Expensive compared to most models-Large—some may not have the room for it
At the more premium end of the scale, Phillips' air fryer is sturdy and well-built with an attractive and sleek design. This model is set apart from competition thanks to its dual airflow function, which essentially creates a tornado of heat up and around your food. This action draws out excess fat which is then caught in the drip tray below; pretty impressive stuff. We found the resulting chips to be some of the best we tried during testing—really crispy on the outside without becoming dry in the middle (a common complaint of less stand-out machines) and they didn't need regular checking or shaking either.
All elements of the interior are removable and dishwasher safe to ensure there's no faff when it comes to cleaning up, and we liked the addition of the mesh bottom to really allow food to get airflow all around it. The basket is big enough for between 4-6 people, given that it can fit an entire chicken or a couple of bags of frozen chips, so this would make a great option for families with children. Little extras like the auto settings for chips, chicken, and fish, as well as a neat plug tidy pocket at the back made the whole experience feel seamless. The dial allows you to change timings and temperature, and the 'keep warm' function ensures a piping hot meal despite any delays you may have in your day-to-day life.
Another plus was how quiet we found the Phillips air fryer to be—it emitted a low hum of the fan rather than a full-scale rattle. All in all, this product seriously impressed us and we could see how this would easily become a near replacement for your oven.
5. Tower Vortex 5-in-1 Digital Air Fryer Oven
Best air fryer for cooking chicken
Specifications
RRP: $159 / £119.99Capacity: 11LDimensions: 33.9 x 38.2 x 32.4cmPower: 2000WMaximum temperature: 200CWeight: 7.56kgFunctions: Frying, rotisserie, dehydrating, baking, roasting
Reasons to buy
+Drip tray catches most of the oil+Can cook a whole rotisserie chicken+Fully removable door for easy cleaning+Chips ready in 20 minutes +Different levels mean dual cooking possible +Glass door allows you to view food as it cooks
Reasons to avoid
-Bulky-Short cable limits where you can plug it in -Harder to clean than most
We have to admit we were skeptical about an air fryer's ability to successfully rotisserie a whole bird, but we needn't have been so hesitant. This model from Tower produced incredibly tasty rotisserie chicken in 45 minutes with that classic golden skin and moist meat—as such, we think this is the best air fryer for cooking chicken, and is worth buying for this functionality alone.
When it came to chips, there's an auto function that sets up the machine at the press of a button on the intuitive interface. For two trays of chips you'll need one tablespoon of oil, and if you're cooking for more than a couple of people you'll need to use two trays. The result of this setup is that you are required to move the trays around a little during cooking to ensure even browning of both top and bottom trays, which might be a deterrent for those who want their air fryer to assist them with hands-free cooking. The chip instructions also require you to weigh, peel, cut and par-boil potatoes, which was one of the lengthier processes we faced during testing. Results were good though—fluffy centers and crunchy edges.
When it comes to cleaning up, the oven door completely detaches for excellent cleaning capacity, and all the trays and racks are removable and dishwasher safe. The whole cooking chamber on this needs to be hand-wiped, however. After cooking a full chicken, it was pretty oily and took a bit of elbow grease to get clean. Overall we loved that the glass door allowed you to monitor the food as it cooked. We think that the fiddly cleaning aspects and bulky size would be far outweighed if you plan to use this for both chicken and chips on a regular basis.
6. Lakeland Digital Crisp Air Fryer
Best air fryer for two people
Specifications
RRP: $133 / £99.99Capacity: UnknownDimensions: 26 x 32 x 35cmPower: 1350WMaximum temperature: 200CWeight: 5kgFunctions: Frying, baking
Reasons to buy
+Compact size+Perfect portion for two people+Quiet when operating+Longer cable
Reasons to avoid
-Controls take a little getting used to -Not dishwasher safe
Lakeland has made its own-brand air fryer, and it packs a punch despite its petite proportions. The smaller barrel shape is a much more attractive design than many of the other best air fryers, and we liked that it didn't take up so much space on the countertop. The reduction in size does translate as a smaller fryer basket too though, so while this is perfect for two people we think it would struggle to feed a family.
The setup is super simple, and the included booklet plainly explains how to get started as well as how to make popular recipes, like chips. Chips don't have to be parboiled, which is a bonus when compared to alternatives on the market, and they say they only take 10 minutes. Because of the neat basket size, the potatoes have to be layered and shuffled once during the cooking time, whereas other models have a rotating blade that moves things for you. While the recipe booklet tells you to give the chips ten minutes, the auto function takes 20 minutes, which is a little confusing. We found that after 15 minutes they were perfectly cooked though, with soft interiors and pretty crunchy exteriors.
The screen appears to be touch screen, but is actually controlled with a dial and takes a little getting used to. Once you have it mastered it's fairly straightforward though, and the pre-settings are a handy extra. You can bake in this air fryer too, but with space for just four cupcakes at a time (the basket has a footprint smaller than a dinner plate) we think we'd leave this job to the oven. The basket releases with a sliding button and needs to be hand-washed, but the non-stick coating makes this a speedy chore. Overall, for smaller households we think this is great given it needs no pre-eating and produces fully-cooked chips in under fifteen minutes.
7. Russell Hobbs Express Air Fry Mini Oven
Best air fryer that doubles as an oven
Specifications
RRP: $133 / £99.99Capacity: 12.6LDimensions: Unknown Power: 1500WMaximum temperature: 220CWeight: 6.47kgFunctions: Fry, grill, bake, toast and keep warm
Reasons to buy
+Good temperature range+Lots of additional functions+Relatively lightweight +Double shelves for dual cooking
Reasons to avoid
-Fairly bulky, around the size of a microwave-Short power cable
This is a bit of a wild card choice for our best air fryer guide, given that it's a mini oven first and an air fryer second—but thanks to its far-reaching uses, we thought it deserved a place on the list. This air fryer/oven needs to be preheated, but comes up to temperature in ten minutes and uses a huge amount less power than a conventional oven—its first big tick. Included in your box, you'll get oven trays and racks, with the air frying rack a sort of metal mesh. This allows airflow to completely circulate your food for more even results.
Despite the obviously well-considered design, we found chips needed a shake here to there to get them uniformly colored (the glass door allows you to keep an eye on things for easy monitoring though). The results were mixed—we found that our chips were tasty and cooked through, but not as crisp as other machines made them and there wasn't an obvious way to toggle the temperature for this functionality. This could be an element you're willing to overlook if you're going to make good use of the other features though, which range from baking and grilling to keeping warm and roasting. We also liked that the slide-in crumb tray at the bottom caught debris from meals as they were being made, and each of the removable parts is dishwasher safe.
For all its merits it's worth noting that this model is quite bulky, and will take up a good chunk of counter space. As such, this model would be ideal for a single-person household, or for use in the interim when upgrading or changing kitchens, given that it's lightweight to move and lift, and is multi-functional, doubling as an air fryer and oven.
8. Ninja AF100UK Air Fryer
Best small air fryer
Specifications
RRP: $173 / £129.99Capacity: 3.8LDimensions: 36 x 25 x 32cmPower: 1550WMaximum temperature: 240CWeight: 5.2kgFeatures: Fry, roast, reheat, dehydrate
Reasons to buy
+Easy cleaning+Perfect for couples+Good price point+Simple set up
Reasons to avoid
-Needs room for ventilation to work properly-Fairly noisy-No auto-pause when checking food
This model is the younger sibling to the Ninja Foodi MAX Dual Zone Air Fryer, and packs much of the same impressive performance into a smaller frame. One of the main perks of this air fryer was how easy it was to set up. You literally remove the packaging, plug it in, and it's ready to go. While official instructions for making chips require you to soak and pat dry your potatoes, this extra half-hour step seemed unnecessary to us, and we made perfectly tasty fries in under half an hour without waiting to soak the starch off the potatoes first. Would they have been better if we'd kept to the rules? Potentially—but for us, an air fryer is all about speed and convenience. The basket required a bit of movement during cooking to get an even coloring on the chips, and we noticed that the machine didn't auto-pause when we removed the tray, a few tiny drawbacks.
While you can dehydrate in this air fryer, the shelf is so small that you end up with a pretty tiny portion of fruit for all your labor, so we couldn't see this becoming a much-used function. Roasting was much more successful though, with delicious potatoes and vegetables processed with next to no oil. All the interior elements and accessories are dishwasher safe, so it's very simple to clean, and we found the exterior was maintained easily too with just a simple wipe down with a warm, soapy cloth. Intuitive controls and a simple interface added to the appeal of this great all-rounder, which we reckon is the best air fryer option if you're after a smaller model on our list.
9. Salter Digital Air Fryer EK2559
Best budget air fryer
Specifications
RRP: $86 / £64.99Capacity: 4.5LDimensions: 34 x 33 x 28cmPower: 1500WMaximum temperature: 200CWeight: Unknown Features: Fry, grill, bake, roast
Reasons to buy
+Quiet+Attractive design+Easy clean+Handy default functionality +Simple to set up
Reasons to avoid
-Sticky controls-Chips need to be parboiled when making from scratch
Capable of doing all the usual tasks—making chips, crisping spring rolls, cooking chicken—this machine from Salter is a snip of the price of other main players yet offers many of the same perks. Chips need to be parboiled and dried before being added to the basket, which was a bit of a gripe of ours during testing when we wanted to make speedy dinners. Following the instructions did result in tasty, golden chips though, but the need to shake the basket every five minutes did rather detract from the convenience factor of an air fryer.
That being said, this machine takes very little setup and makes a low noise that is much easier to tolerate than some of the other models. The interface on this air fryer can be a little frustrating as it's not hugely responsive, so takes a bit of getting used to. Cleaning is quick and easy, and overall, for an entry-level machine, we thought this performed particularly well given its price point. We also really liked the 'default' setting which sets the air fryer to 180C for fifteen minutes, which we found was a perfect quick fix for freezer favorites. The smart, curved design looks attractive enough to leave on your countertop, and the footprint isn't huge when compared to similar machines.