Photo: depositphotos.com
Space heaters offer a convenient and cost-effective way to improve home and office comfort. Personal and large versions increase the warmth in living spaces, or offer temporary heat in a garage or a workshop.
Space heaters are particularly useful when it's impractical to expand an existing heating system to include additions or renovations, like when an extra bedroom or study has been added to the habitable space in a home.
With a wide choice of sizes, styles, and technologies available, it can be challenging to know which is the best energy-efficient space heater. Read on for details about the types of space heaters available.
Photo: amazon.com
What to Consider When Choosing the Best Energy-Efficient Space Heater
While kerosene and propane space heaters do exist, challenges with fumes and dangerous fuels mean the majority of space heaters safely used in the home are electric. Even narrowing the choices to electric-powered heaters still leaves a vast range of space heaters to choose from. It's important to look at a number of key elements.
Type
Before looking at the different types of heaters, it's worth thinking about the way heat is produced. While there are radiant and micathermic heaters, most space heaters use convection to heat the air and maintain constant warmth whether there are people in the room or not.
Room Size and Heating Capacity
Space heaters are made in a wide variety of sizes and power options, so there's something for just about every situation. Heat output is measured in watts (W), and general guidance is that 10 watts per square foot (sq. ft.) is needed to maintain a comfortable warmth. Therefore, a 100-square-foot room would require a 1,000-watt space heater.
Desktop models are around 200 to 400 watts, which can be very good for direct heat or modest personal spaces like a home office. The most common heat output in space heaters is 1,500 watts, which is sufficient for a 10- by 15-foot room. Heaters of 2,000 watts and upward are available, but large electric models may need to be hardwired.
Energy Efficiency
Space heaters aren't usually a replacement for central heating, but they can offer excellent efficiency and make big savings if they are only needed to heat a room or two. This can often be the case as the seasons change, when some parts of the house are cooler than others.
Additional energy efficiency comes by way of features on the space heaters themselves. Thermostats and adjustable heat settings allow increased control so energy isn't wasted. Sleep or auto-off timers can be set to turn the heater off after a preset period, though most do not provide for an automatic "on" setting.
Smartphone apps allow access from anywhere. Control via Wi-Fi offers an increasingly large array of features, like remote turning on of the device so rooms can be warm when people return from school or work. There's also the possibility of voice activation via smart-home systems like Alexa and Google Assistant. Allowing the user greater control provides the opportunity to maximize energy efficiency.
Safety Features
Some space heaters become warm to the touch, so care needs to be taken if there are children and animals around. Fabrics and soft furnishings also need to be spaced away from the heater. It may be worth looking for cool-touch housings as an additional way to prevent accidents.
Overload protection should be provided to protect against overheating. Most space heaters also have tilt or tip protection so the unit will turn itself off if it falls or is knocked over. All space heaters that meet current U.S. Department of Energy safety standards have a UL (Underwriters Laboratory) sticker.
Propane and kerosene space heaters give off poisonous carbon monoxide gas which can collect in unventilated rooms and presents a serious health hazard. Models for indoor use have a sensor that checks oxygen levels and turns the heater off if they are exceeded.
Noise Level
Few of the best energy efficient electric space heaters could be described as particularly loud, though the noise levels do vary. The culprit is almost always the fan. But, oil-filled and micathermic models have no fan, nor do most infrared models. While they might make a little noise when first heating up, these are very quiet during normal operation.
Ceramic space heaters generally have some kind of blower, and forced air models make a feature of it. This can cause them to be noisier on high settings. Few manufacturers provide decibel ratings. While most models are not intrusive, the heaters with louder powerful blowers may not be best for bedroom use.
Our Top Picks
Now that you understand the main features of a space heater, the following are some of the best options currently available. Organized by category, this list contains the best energy-efficient space heater for you.
Best Overall
1
Dr Infrared Heater Portable Space Heater, 1500-Watt
Photo: Check Latest Price
The Dr. Infrared electric garage heater comes with a programmable thermostat that has a range of 50 to 85 degrees and three different modes including automatic, high, and low. It also can function as a humidifier, creating a cool mist from the top of the heater that helps prevent the hot air in the garage from becoming too dry.
This 1,500-watt electric heater uses radiant infrared heat to quickly warm up the garage. It's made with both overheating protection and an automatic shut-off system. There is a lot to like about the Dr. Infrared Heater Portable Space Heater Humidifier. First, the humidifier is excellent, creating lots of water vapor. Second, the remote controls the humidifier, the oscillation, and the temperature, giving the user total control. Finally, the oscillating louvers make spreading heat about the garage a breeze.
The only complaints are that, while portable, this model doesn't have a handle (it rolls on wheels, but moving it with a handle would be easier). Also, despite being so large, the dial can be difficult to read if it's not at eye level.
Product Specs
Pros
Cons
Best Budget
2
Lasko 5775 Electric 1500W Ceramic Space Heater Tower
Photo: homedepot.com Check Latest Price
The 1,500-watt Lasko Electric Ceramic Space Heater is another option that uses ceramic technology and combines oscillating action with a blower for effective heating around the home or the office. As with most electric heaters of this kind, the exterior stays cool to the touch and there's overload and tip over protection to prevent accidents.
This model also uses 5100 BTUs which can heat over 300 square feet with the help of its forced air power. There are two modes of 900 and 1,500 watts. A thermostat offers six preset temperatures, and there's a built-in timer with a maximum duration of 7 hours.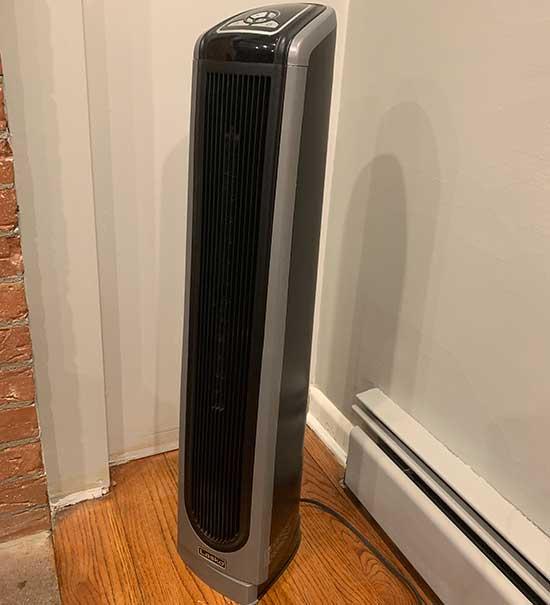 This model also comes with a handle for portability. The functions on offer are fewer than some other models and there's no remote control, but this is a perfectly adequate heater at a very competitive price for many shoppers.
Product Specs
Pros
Cons
Best Personal
3
Brightown Mini Desk Heater, 400W Low Wattage
Photo: amazon.com Check Latest Price
The 400-watt mini space heater from Brightown is one of the most efficient electric space heaters for small personal spaces. It can sit on a desktop or a table and uses ceramic technology so the exterior stays cool to the touch. It shares the same safety standards as larger models with both tip-over and overload protection. Controls are basic with just an on/off switch and an LED light to indicate when the unit is on.
While the manufacturer suggests it can warm areas of up to 100 square feet, that may be a little optimistic. It is most efficient in the same area as someone is working or studying, rather than as a room heater. At around 40 decibels it's not the quietest of electric heaters, but that sound level is little more than a background hum. Along with the very small size comes a very low price.
Product Specs
Pros
Cons
Best Oil-Filled
4
PELONIS Oil Filled Radiator Heater
Photo: amazon.com Check Latest Price
Oil-filled radiators aren't as popular as they once were, but the 1,500-watt Pelonis has numerous features that warrant a closer look. Not the least of these is its competitive price and its wide range of features. There's a programmable thermostat, a 10-hour timer, and an eco mode that steps down from 1,500 to 900 watts once the desired temperature is reached. Everything is controlled via remote. Tip-over and overheat protection are included.
Oil-filled radiators are virtually silent once warmed up, but they can take half an hour to heat a room thoroughly. This should be balanced against the fact that the oil continues to provide heat for some time after the unit is turned off. Managed properly, oil-filled radiators offer similar energy efficiency to other heat technologies. Though heavier than some models at 16 pounds, its wheels and a handle make it easy to move around.
Product Specs
Pros
Cons
Best Compact
5
Vornado VH10 Vortex Heater with Adjustable Thermostat
Photo: amazon.com Check Latest Price
The 1,500-watt Vornado VH10 is designed to be compact and easily portable while still having the power to provide ample heat for small- to medium-size rooms. The ceramic heating elements combine with a special vortex fan, providing a spiral of hot air that circulates quickly for comfortable warmth without unpleasant hot spots.
There are two heat settings, 750 and 1,500 watts for energy efficiency and tailored heat production, plus an adjustable thermostat. There is no timer or remote. The case remains cool and there is both overload and tip-over protection. A convenient carry handle helps move it from place to place and an integrated cord wrap keeps everything tidy when not in use.
Product Specs
Pros
Cons
Best Micathermic
6
De'Longhi Mica Thermic Panel Heater
Photo: amazon.com Check Latest Price
The De'Longhi garage heater has a narrow panel design that produces radiant heat from the front of the heater while the sides and back remain cool. It is also safe to wall-mount without the risk of overheating, or placed on a wheeled base so it can be moved freely. Use the control dials on the side of the heater to control the temperature and the intensity of the heat.
This 1,500-watt electric heater also has an automatic power shut-off system to prevent damage if the heater gets knocked over. It will even sound an alarm to ensure that the user knows the heater is on its side.
We thought that the De'Longhi Mica Thermic Panel Heater was quiet while running, despite putting out quite a bit of heat (directly in front, at least). The slim design is also space-saving and compact. We also found that this unit's tip-over switch activated faster than the others. The only complaint we can register is that it does take a while to heat up, and it may not heat a large garage as fast as other options.
Product Specs
Pros
Cons
Best Wi-Fi
7
Atomi Smart WiFi Portable Tower Space Heater
Photo: amazon.com Check Latest Price
The 1,500-watt Atomi tower space heater is one of the most efficient electric space heaters. With a ceramic heating element and high, low, or eco power setting, a variable thermostat, timer, and the standard safety features expected on any modern space heater. Plus, this model heats to 70 degrees in just 2 seconds for quick and easy heat. What sets it apart is Wi-Fi control.
Using the smartphone app, control is available from virtually anywhere. The power mode can be changed and the temperature can be altered in 1-degree increments. There's also a countdown timer with 1-hour increments, and both daily and weekly schedules can be set for turning the heater on and off. Should the unit get tipped over, it will send a phone alert. Many functions can also be voice activated using Alexa or Google Assistant.
The convenience and control offered by Wi-Fi connectivity might be expected to come with a premium price tag, yet the Atomi remains an excellent value.
Product Specs
Pros
Cons
Best Garage Heater
8
Mr. Heater Portable Propane Heater
Photo: walmart.com Check Latest Price
Electric space heaters are great when insulation levels are high, but garages and workshops often have drafty areas that ruin their efficiency. The answer is a propane model like this one from Mr. Heater.
Propane space heaters are rated by BTUs (British Thermal Units) rather than watts. This Mr. Heater model provides warmth for spaces up to 450 square feet with 4,000-18,00 BTUS, the equivalent of 1,200-5,300 watts. Low, medium, and high heat settings compensate for varying outdoor conditions. Like electric space heaters, it has tip-over protection. It also shuts down if the pilot light goes out or if oxygen levels are reduced, so there's no danger from carbon monoxide.
The unit produces a live flame, so care has to be taken if children are around or flammable materials/chemicals are present. A regulator and a 20-pound propane tank need to be purchased separately. Even so, in the right environment this is one of the best energy-efficient space heaters available.
Product Specs
Pros
Cons
Our Verdict
While there are many energy efficient ways to heat your home or office, select options may be better suited for you than others. One of the best options available is the Dr Infrared space heater with 1,500 watts of power, built-in humidifier, and 3 heat modes. Alternatively, the Lasko 5775 space heater uses ceramic heat generation for over 300 square feet of space. Plus, this model has two heat settings.
How We Chose the Best Energy Efficient Space Heaters
Modern, energy-efficient space heaters offer a convenient and cost-effective way to improve home and office comfort. With the wide range of sizes, styles, wattages, and technologies available, there's sure to be an energy-efficient space heater that's just right for any given situation.
The featured picks includes larger versions that can increase the warmth in a variety of living spaces, or they can be used as temporary heat in a garage or workshop. Also included are personal-size models that can be an excellent choice for chilly offices or when a little extra warmth is needed. These units also include wall-mounted and wheeled styles for maneuvering, while others have carrying handles.
With the varying wattages of 400 to over 5,300, these models are able to provide either high heat in garages or low heat for bedrooms, laundry rooms, or offices. With the ample heat output, select models can also be used as humidifiers or include timers, automatic shut-off for energy efficiency, tip-over protection, and/or oscillation. Finally, a few of these heaters can be operated via remote control or through Wi-Fi connectivity.
Tips for Using an Energy-Efficient Space Heater
Regardless of the type of space heater chosen, optimum energy efficiency will always come from making sure it's the right size for the chosen area. If it will be moved from room to room, then the largest room size should be used or it will struggle to provide sufficient warmth.
On the other hand, there is no point in over-sizing. Achieving the most heat value for the cost to run it will come from being as accurate as possible. If there are two very different size rooms, consider buying two heaters.
FAQs
The sections above tackled the technical aspects of energy-efficient space heaters and then provided some of the best real-world examples. However, this is a complex subject, and there are a number of additional questions that crop up frequently. Answers to some of these popular questions are below.
Q: How can I tell if a space heater is energy efficient?
Unfortunately there are no recognized standards. A UL or ETL listing is sometimes quoted, but this ensures the space heater meets current safety standards rather than certifying efficiency. The U.S. Department of Energy website says it's important to choose the right size heater for the room (don't oversize) and recommends space heaters with a thermostat so the room isn't overheated.
Q: What type of space heater is most energy efficient?
It's a difficult question to answer because numerous factors have an impact. Strictly speaking, infrared is probably the most efficient, but not necessarily the right choice. It's important to consider all the factors above in order to find the best space heater for energy efficiency.
Q: How much does it cost to run a 1,500-watt heater for 24 hours?
Utility company charges, room size, and level of insulation all have an impact, but the best 1,500-watt energy efficient space heaters cost around $7 to $9 to operate for 24 hours.
Q: What is more energy efficient: a space heater or central heat?
Central heat is more efficient if the desire is to keep the whole house at a constant temperature for weeks at a time. Space heaters are more efficient in three ways:
Q: What type of space heater uses the least electricity?
Electricity consumption is calculated in kilowatts per hour (kW/hr). A kilowatt is 1,000 watts. In general, consumption relates directly to the wattage of the device, so you'll save money if you can turn it down. The space heaters that use the least electricity are 200- to 400-watt personal heaters, but they provide insufficient warmth for family rooms.