Photo: depositphotos.com
Home automation has taken huge leaps in recent years: Smart devices help make shopping lists, dial phone numbers, record TV shows, and control thermostats at the office or home via an app or sometimes voice command. Smart plugs are convenience devices that control electrical power from your phone or home digital voice assistant. Install smart plugs between the electrical outlet and nearly any device and control them through WiFi or Bluetooth. The best smart plugs can power lamps, air conditioners, and electronic gadgets like TVs. And since smart plugs can control devices remotely, you're less likely to forget to turn off something.
With their easy installation and ability to conserve power (not to mention save you money on expensive upgrades), the best smart plugs are a smart buy. Shrink your energy bill, and fill your life with rich conveniences once reserved for futuristic TV cartoon families with robots for housekeepers.
Photo: amazon.com
What to Consider When Choosing the Best Smart Plug
If you want to cash in on the convenience that the best smart plugs can provide but confused about which version to buy, keep reading. This section explains some of the important features and considerations to keep in mind when shopping for the best smart plug for your home. From app support to connectivity, these features help maximize the power of a smart plug.
Smart-Home Compatibility
The ability to use an app to set timers and schedules is a great feature, but smart plugs can do much more. With the right smart-home system, control devices with your voice or program scenes that power up several devices at one time, based on one simple action such as unlocking your front door.
To truly take advantage of all that smart plugs have to offer, choose one that works seamlessly with your smart-home system. Several smart-home technology brands are on the market today, such as Google Assistant, Amazon Alexa, and Apple HomeKit. Few devices are universally compatible, so research all the different options to ensure compatibility with your hub.
Not only can these smart-home systems control devices with an app, but they may also allow voice control. By using a key phrase to activate a digital assistant device—Echo, Alexa, Google, and the like—users can tell the smart-home device to shut off specific lights, turn on the radio, and control a number of other devices plugged into smart plugs.
App Inclusion and Support
Instead of a smart-home hub to control their smart devices, some people use an app. Most smart-home devices can pair with an app, but they aren't all as intuitive or reliable as others.
Before purchasing a smart plug, ensure that it's aligned with a quality app that's reliable and easy to navigate. Look for an app that allows users to program several devices under one system.
Pro Tip: If you're planning to use smart plugs throughout your home, be sure to buy the same brand for each room. Otherwise, you must navigate three or four different smart plug apps on your phone or tablet.
Connectivity
Network connectivity is one of the most common issues that smart device owners encounter. Everyone wants a device that connects easily without causing frustration. Whether connecting it to a smartphone app, Bluetooth device, or smart-home system, pairing should be simple and straightforward.
Choose a device that meets your needs. While most smart plugs work well with a WiFi system, some have Bluetooth connectivity as well, which means they can potentially control Bluetooth devices that aren't connected to WiFi. Those who want "If-This-Then-That" (IFTTT) programming may prefer this feature to help them get the most from their smart plug.
USB Charging
To squeeze a bit of extra functionality out of your smart plug, look for a model with a built-in USB charger. While many smart plugs are large multi-outlet devices that might not fit well behind a couch, some allow several devices to connect to the smart plug at once.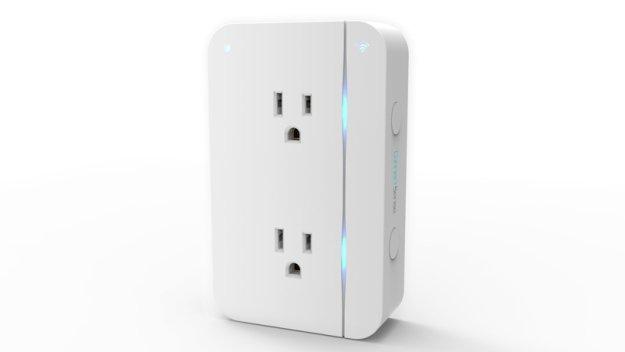 Most smart plugs feature 5V USB ports that are "always-on," which means they don't require an app. Instead, plug your smartphone or tablet into these ports and allow them to charge overnight without worrying about programming the app—a convenient benefit over a standard smart plug.
USB ports also provide the ability to charge USB devices without their base, an important consideration since a smart plug already protrudes from the wall. Attaching a USB base cube makes it stick out even further, which is bulky and unattractive.
Automated Schedule
A smart plug paired successfully with a great app or smart-home system allows users to set up automated schedules. For instance, if set up correctly, a user can enter the home and approach a smart lock on the front door, and the lock will sense the phone's Bluetooth to automatically unlock the door. Additionally, the app or smart-home system can perform actions such as turning on the entry lights when it detects the door unlocking.
Smart plugs can make it appear as though owners are home when they're actually at work, out for the evening, or even on vacation. Scheduling a program to make all the smart plugs throughout the home work together to turn lights on and off helps provide additional security.
Our Top Picks
Many top-quality products are available in the home automation arena, which can make shopping for the best smart plug a daunting task. This roundup zeroes in on some of the best smart plugs on the market.
Best Overall
1
Amazon Smart Plug
Photo: amazon.com Check Latest Price
The Amazon Smart Plug is an easy way to bring smart-home convenience into the home. Amazon coins its version of the smart plug as "Certified for Humans," which means an average person without an engineering degree can set it up with ease. It doesn't require a smart-home system; instead, it runs entirely through the Alexa app. It's also incredibly easy to get started: Just plug it in, open the app, and add all the household's devices. Alexa can set up schedules and routines, as well as designate a set of devices to react together (such as turning off all the lights at once). Its small design means two smart plugs can fit on a double outlet.
While this plug is easy to set up, it won't work properly on a 5G wireless system. The device requires standard WiFi, which may mean resetting all your other devices.
Best Bang for the Buck
2
Kasa Smart Plug by TP-Link (HS100)
Photo: amazon.com Check Latest Price
TP-Link's Kasa Smart Plug is an excellent option for consumers who want to automate their home without making a large financial commitment. This single smart plug simply plugs in and runs with the Kasa app. Through the app, users can create schedules that fit their lifestyle along with themes that operate several devices at one time. The Kasa Smart Plug pairs with Amazon Alexa and Google Assistant. It works on 2.4 GHz WiFi, making it compatible with most home wireless networks.
Its large size is the biggest issue with the Kasa Smart Plug. The tall plug means it might block the other receptacle on a double outlet or extend past the wall plate. This can be inconvenient—as it's less secure and may come unplugged—or just aesthetically displeasing.
Upgrade Pick
3
gosund Smart Plug, Mini WiFi Outlet, 4-Pack
Photo: amazon.com Check Latest Price
For years, homeowners and renters alike have put their lamps on timers to create the illusion that someone's home. Gosund's Mini WiFi Outlet 4-Pack of smart plugs can automate your entire home to provide that same illusion of occupancy but with more flexibility. These smart plugs are easy to use with both Amazon Alexa and Google Assistant. Set timers or schedules for your devices either manually or via the gosund app.
Gosund's smart plugs are relatively light-duty compared to the other plugs on this list. They're rated at only 10 amps, while the other smart plugs listed here can handle 12 or 15 amps. The lower amperage makes these plugs suitable for devices like lamps and radios but not for heavy-draw appliances like coffee pots and pool pumps.
Best for the Backyard
4
Kasa Outdoor Smart Plug by TP-Link (KP400)
Photo: amazon.com Check Latest Price
TP-Link takes the smart plug to the home's exterior with this plug-in adapter that can control two separate devices from one plug. It operates with Kasa's app and communicates via both Amazon Alexa and Google Assistant for convenient voice control. It's weather-resistant and has a WiFi range of up to 300 feet, which makes it an excellent option for controlling Christmas lights, backyard string lights, and pool pumps. Simply power up the devices using the digital voice assistant or the Kasa app.
Use this smart plug with ease in a basement or garage, but keep in mind that if using it outdoors, it's weather-resistant but not waterproof. Shelter it from direct rain and snow to prevent damage.
Best Energy Monitoring
5
Eve Energy Smart Plug & Power Meter
Photo: amazon.com Check Latest Price
Consumers looking to automate and track a device's power consumption may enjoy the flexibility offered by the Eve Energy Smart Plug and Power Meter. It's not only compatible with Apple HomeKit, which makes it an attractive option for homes already filled with Apple products, but it also functions through Bluetooth. Penny-pinching or curious users may appreciate the Eve app's ability to generate easy-to-read charts that display a specific device's energy consumption.
Note that the Eve system stores device information for only 23 days. For it to continue to work, users must resync the smart plug and power meter within that time frame. This makes it a less desirable option for less-frequented rooms in a main home or vacation home.
Best App
6
Kasa Smart Plug WiFi Outlet (HS103P2)
Photo: amazon.com Check Latest Price
TP-Link's Kasa products account for several awards in this guide for multiple reasons. Reliable, easy to use, and affordable, TP-Link's apps usually pair without difficulty, and this Kasa Smart Plug is no exception. The product comes in a two-pack to set up two different devices. To program these smart plugs, simply plug them into the wall, download the Kasa app, and connect them to WiFi through the app. Then, set up all of the schedules and timers, including a timer to sync with sunrise and sunset. One feature in particular stands out: the ability to name the devices installed in the plugs. This feature makes it a desirable smart plug app for those accustomed to using several smart plugs to control devices throughout the home.
The plug/cord combination on these smart plugs can protrude from the wall almost 4 inches, which means they aren't likely to fit behind a couch, reducing their flexibility.
Best for Apple Homekit
7
WeMo Mini Smart Plug
Photo: amazon.com Check Latest Price
Few devices work as seamlessly with Apple HomeKit as the WeMo Mini Smart Plug. Setting up this smart plug is a straightforward process: Plug it in, download the WeMo app, and align it with the home's 2.4 GHz WiFi system. The WeMo app sets schedules and timers, syncs to sunrise and sunset, and provides a host of other features. It features a slim design that allows two plugs to double-stack on an outlet, and they don't protrude as far as some other smart plugs with similar designs. Moreover, users can control the smart plug with both Amazon Alexa or Google Assistant.
The app is the WeMo smart plug's one weakness. It's less user-friendly and often operates more slowly than some of the other smart plug apps on the list. This can make setting up scenes and schedules a challenge.
The Advantages of Owning the Best Smart Plug
Using smart plugs can increase your home's security. By pairing smart plugs with an app or a smart-home system, users can create the illusion that they're home even when they're far away by programming lights and radios to turn on and off. Also, apps that work with a security system can program smart plugs to turn lights on throughout the house if the alarm activates, potentially scaring away would-be intruders.
Smart plugs can turn standard devices into well-oiled machines that offer enhanced flexibility and convenience. For instance, a standard coffee pot paired with a smart plug can have your coffee hot and ready the second the alarm goes off in the morning. By programming the plug and turning the pot's switch to the "on" position the night before, the plug powers up the coffee pot at the specified time.
With smart plugs, reduce "vampire" energy loss, the power that devices consume when they're in standby mode. A smart plug cuts power to those devices completely when they're not in use while also consuming less power to stay connected to the smart-home system. Smart plugs can:
FAQ About Your New Best Smart Plug
Consumers still unsure about purchasing a smart plug or simply not certain they fully understand how it works may find the answers they need below. Here, the most common questions about smart plugs and their corresponding answers appear. If you still have questions after reading this section, reach out to your smart plug manufacturer's customer service department.
Q. What can I use with a smart plug?
You can use any device with a smart plug. However, devices with on/off switches that stay in the "on" position, such as lights, coffee pots, heaters, fans, and radios, work best.
Q. Is a smart plug available that works with 5GHz?
You don't have to have a 5GHz system to use a smart plug. A 2.4GHz WiFi system has better range and plenty of speed and capability to send an on/off signal to a smart plug. However, if you connect your phone to a 5GHz system, you should still be able to communicate with the devices on your 2.4GHz system.
Q. How do you set up a smart plug?
Most smart plug apps walk you through the device setup procedure. Generally speaking, first install the app and then press a button on the plug for a prescribed amount of time while the app scans for the signal. After that brief process, the app allows you to set up timers and schedules.
Q. Do smart plugs block other outlets?
Rarely. Most smart plugs fit over one outlet and allow access to the other plug. However, some multi-port smart plugs block both outlets, but they have several built-in ports to compensate for the blockage.