Search the shelves of the local big-box electronics store and you'll find digital assistants built into a litany of devices. Microwaves now take commands from Alexa. Fridges can converse via Google Assistant. Voice commands can control just about everything in a smart home, but there are some exceptions. We chose the best smart plugs to help bring those not-connected devices into the world of the smart home.
A lot of crucial items in your home only understand two settings: on and off. The solution to getting older elements of your home to "wise up" is Wi-Fi-enabled smart plugs. These simple-to-use devices can turn the power to a device on and off with a simple voice request through Amazon's Alexa, Google's Google Home, or Apple's HomeKit interfaces. So, whether it's the lights on your turtle tank, the old school coffee maker you can't give up, or your favorite old lamp that can't fit a smart bulb, these smart plugs can bring all of them into your voice-controlled smartphone with ease.
How we selected the best smart plugs
We combined our own experiences, those of tech-savvy friends and colleagues, and testimonials from the most trustworthy sources. We have also had first-hand experience with many of the products on this list. We've whittled down the world of choice into a few recommendations. The key elements we considered were reliability, price, compatibility, and convenience. Size and form factor are also especially important here because fitting a smart plug into your space can be trickier than it seems.
What to consider when shopping for the best smart plugs
There are certainly a few considerations to make when you're looking to smarten up your surroundings:
Socket count
Clearly, how many plugs you need and how close together they are is key. If you have many devices that need a smart plug all clumped together, a smart power strip will be a better choice. Smart power strips are more expensive than their smaller counterparts but have independently controllable plugs, making them cheaper overall than several plugs. They also almost always have USB inputs for charging devices.
Smart home platform
You'll have to choose a smart home platform like Google Nest, Apple HomeKit, or Amazon Alexa to support the devices in your smart home—through those, you can find a way to automate everything from light bulbs to doorbell cameras and you'll want to make sure your plug is compatible with your chosen system. Alexa typically works best with an Amazon Echo device, of which there are many varieties. If you're yet to invest in an Echo, Amazon often has deep discounts on the devices during their summer Amazon Prime Day sale event or during other big sales holidays like Black Friday.
Google Nest, previously known as Google Home, usually interfaces through a Google Nest smart speaker, similar to the Amazon Echo. Google has aggressively offered Google Nest speakers cheap or free as add-ons to various other Google products or through third-party retailers. Apple's HomeKit is the newest smart home system and, unfortunately, that means that far fewer devices are compatible with HomeKit.
HomePod mini is the Amazon Echo / Google Nest speaker competitor, but you can also use an iPad or newer-generation (4th) Apple TV devices as hubs for smart homes outfitted with HomeKit.
SmartThings, a Samsung-led competitor to the above, moved away from hardware in mid-2020 and is now concentrating on software while working with other companies to provide hardware. The install base for SmartThings objects is much lower than Amazon, Google, or Apple, and is a tough recommendation because it seems to be losing the market share battle.
Between the big three companies, the choice really comes down to which company you're already using. If you're a big iPad/iPhone user, HomeKit might be the best and easier option for interfacing with your smart plugs, even if it means fewer plugs on the market will work with your system. Echo and the Nest speaker are already in a lot of homes; if you already have one, there's nothing wrong with kitting out with both as your centerpiece. Even if you use an iPhone, there are compatible apps for both systems.
Indoors or outdoors?
If you have a cool outdoor lighting set-up for your deck or balcony, you need to invest in outdoor-fitted plugs to avoid issues when the weather gets unpleasant. There are far fewer options to stay smart while heading outside, but the items on the market are suitably heavy-duty and weather-resistant. Indoors, you have more options, from single-plug replacements to multi-plugs to power strips, with and without USB.
Extra features
Some smart plugs go beyond simply turning devices on and off. They can create schedules or timers, for instance, to customize their functionality. Timing features can be handy when you're away from home but want the home to seem occupied as a precaution against break-ins.
You can also create dynamic power set-ups for different situations. If you pair your smart plugs with smart bulbs in different lamps and fixtures, you can create multiple colored light combinations for reading, watching TV, romantic encounters, parties, or any other situation. The smart home apps can also give you information about power usage for each device.
The best smart plugs: Reviews & Recommendations
The best smart plugs have become more and more affordable. Our first recommendation is under $15 per plug. Their reliability and responsiveness has improved as well. Durability was once an issue with smart plugs, as they would wear out relatively quickly, but that, too, has become less and less of a consideration. Overall, the best smart plugs offer a simple service—Wi-Fi-enabled power control—but do so exceedingly well. The future truly is now.
Best smart plug for Alexa or Google Nest:Wyze Plug
WYZE
Check Price
Why it made the cut:Wyze plugs do the job reliably on the cheap and they get even more affordable if you buy in bulk.
Specs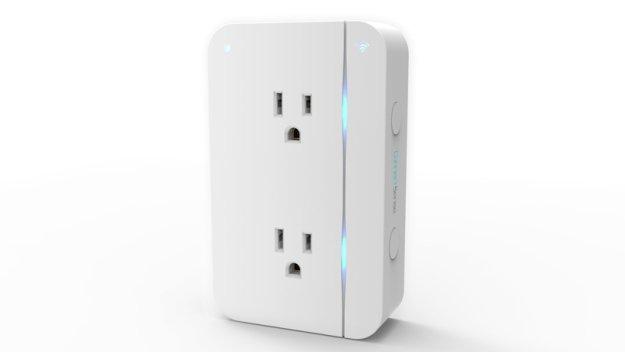 Pros
Cons
Seattle-based Wyze, started by former Amazon employees, has, in two short years, become really prominent in the smart plug space by offering a good proposition: a plug that works well, works for a long time, and rarely doesn't work for a price that's hard to complain about. While competing plugs can run for $15-$25 per unit, Wyze undercuts all of them. The Wyze Plug is solid all-around with nearly no points for style; these plain white blocks know the assignment. Amazon Alexa and Google Nest compatibility means they're easy to install and command and the free Wyze app lets you set timers, group different plugs together, and create schedules. The Wyze app itself is cleaner and easier to use than some competing apps.
Best smart plug for HomeKit:Wemo Smart Plug
WeMo
Check Price
Why it made the cut: Finding affordable plugs compatible with Homekit can be a challenge, but this model fits the bill nicely.
Specs
Pros
Cons
If you're an Apple HomeKit user, your options on the smart plug market are unfortunately limited compared to Alexa and Google. Wyze is a great basic option for most; for dedicated Apple fans, however, Wemo isthe way to go. The Wemo casing is significantly smaller than the Wyze and a bit more stylish as well. The app is a little more bare-bones but still has all the functionality most users need.There's a very solid 3-year manufacturer's warranty, meaning you can rely on Wemo to get the job done. They set up super easy and there's a physical button on the side in case you don't want to use a voice command to toggle the power.
Best smart power strip:TP-Link Kasa Smart Wi-Fi Power Strip
Kasa Smart
Check Price
Why it made the cut: Offering two options with a ton of plugs, individual control, and surge protection all in one package, the Kasa Smart Wi-Fi Power Strip offers even more than what a single plug does.
Specs
Pros
Cons
A lot of us have more devices that we do plugs, so there are already probably a few power strips in your home. However, plugging a power strip into a smart plug will only give you the option of turning off the entire strip. The TP-Link Kasa Smart Wi-Fi Power Strip gives you far more control, allowing you to use the Kasa app to control each individual plug on the strip, while also offering surge protection and USB power slots. The Kasa Smart Wi-Fi Power Strip is available in a 3-plug version that has 2 USB slots, and a 6-plug version that includes 3 USB slots. However, in a weird quirk of pricing, two of the smaller Kasa actually cost significantly less than the larger one. Depending on your open plug availability or needs, you might actually be better off buying multiples of the small version; assess your needs accordingly.
Best outdoor smart plug:Wyze Plug Outdoor
WYZE
Check Price
Why it made the cut: If you need power on the patio or by the pool, the Wyze Plug Outdoor has all the same benefits as the Wyze plug plus some extra features and even stronger protection from the elements.
Specs
Pros
Cons
Decks, pools, porches, and balconies can be just as power-hungry as indoor areas, with lights, fans, and grills greedily gulping current. Wyze makes an outdoor-use dual-plug system that can handle anything Mother Nature throws at it while giving you not only complete control, but also a better understanding of your power usage. Unlike the typical Wyze Plug, the Wyze Outdoor Plug features options to view power usage by connected devices and also control those devices based on the power they use. Bulkier than the Wyze Plug by design, the two plugs of the Wyzer Outdoor Plug are independently controlled in the app, and have covers to protect the inside of the plug when not in use. Both Google and Amazon—unfortunately, the only two systems compatible with Wyze—offer battery-powered versions of their smart speakers that are perfect to use as outdoor hubs, as you don't need to tether them to the wall for them to be in voice range.
Best dimmable smart plug:TP-Link Kasa Smart Wi-Fi Outdoor Plug-In Dimmer
Kasa Smart
Check Price
Why it made the cut:Control dimmable lights outdoors without worry.
Specs
Pros
Cons
Basic smart plugs typically only have two settings: on or off. But if you have a dimmable lamp or, more commonly these days, dimmable string lights for accent and mood lighting, a typical smart plug simply won't do. You need a dimmable plug. Because it's built for the outdoors, the Kasa Smart Wi-Fi Outdoor Plug-In Dimmer fits inside a burly, weather-resistant body. The black casing is good for concealing the plug outdoors, but stands out a bit indoors, so you'll need some strategic placement or a color scheme that works with the plug. Grouping and scheduling options are available in the Kasa app. While there are indoor plugs that blend more seamlessly, the Kasa Smart Wi-Fi Outdoor Plug-In Dimmer offers versatility.
FAQs
Q: Are smart plugs reliable?
Smart plugs have come a long way in a few short years and while early versions tended to have more issues, both with power and with Wi-Fi, that has changed. The smart plugs of today are just as reliable as a regular extension cord, surge protector, or multi-plug splitter.
Q: Can you control smart plugs away from home?
Absolutely. As long as your plugs are connected to your home Wi-Fi—and that Wi-Fi is on and connected to the internet—you can control your smart plugs with either the apps of the specific company that makes the plug or sometimes with a hub app for Google Nest, Amazon Alexa, or Apple HomeKit. This means you can turn the lights on if you're going to be late, or, if you have a smart thermostat, pre-warm your house before you begin your commute home.
Q: Do you need a smart plug with a smart TV?
The difference between having a smart plug with a smart TV is whether or not you want to control power to the television itself or just the on/off settings of the TV. Smart TVs are always "on" to some degree if they're plugged in so that they can receive commands from your apps or hubs. By using a smart plug with a smart TV, you can turn off the TV by essentially "unplugging" the power source through the smart plug.
A final word on the best smart plugs
Smart plugs are a vital part of developing a larger smart home system, which can include appliances, thermostats, light bulbs (for color changing and self-contained dimming), and speakers. Once you acclimate to the control and convenience of a smart home, it often becomes difficult to return to "dumb" devices. Individually, smart plugs are quite reasonably priced, but once you start outfitting your entire place with intelligence power, the cost can climb quickly, which is why it's vital to choose the best devices on the market. This guide should point you in that direction, whether you're dipping your toe into the new present or trying to fully future-proof your surroundings.