The Helium Network, which humbly nicknamed itself "The People's Network", is a "global, distributed network of Hotspots that create public, long-range wireless coverage for Internet of Things (IoT) devices."
In simpler terms, Helium (HNT) leverages hotspots to provide connected devices with access to reliable, decentralized internet. This could be anything from a smart collar on a dog, to those pay-per-use scooters and bikes, along with just about any other device that needs constant internet.
People purchase 5G hotspots, connect them to power, then connect to their Helium wallet, and they start earning while providing a necessary service.
Now, of course, that is a way oversimplified way of thinking of Helium, so read on to understand how it garnered investments from Google Ventures and Khosla Ventures, among others.
How Helium Works
Helium has three layers that are important to understand in order to understand its business. Those three layers, from top to bottom, are Helium Hotspots, the Helium Console, and the Helium Blockchain.
Helium Hotspots
Helium Hotspots can work in a few different ways. The most common, as of now, is for these hotspots to send out what is called a LongFi signal whichand sends small packets of data to, from, and between supported devices. The other, and far more exciting kind of Helium Hotspot is its 5G hotspots, which just started shipping last October when Helium landed Dish Wireless as its first major carrier partner.
Like many blockchain-related things, Helium hotspots are open-sourced, so if you fancy, you can actually build your own, though, it is apparently really difficult to build and it can only earn HNT from data packet transfers, not the Proof of Coverage piece that I will get into in the next layer of Helium. Anyways, if you have some Rasberry Pi's laying around and want a challenge, here's a link on how to build your own.
But besides building your own, these are also purchasable and, after receiving one, you can simply plug it in and set it up on the Helium app to start earning. A list of approved manufacturers can be found on the Helium site here.
Helium Console
The Helium Console is the second layer of Helium and is built directly on top of the Helium blockchain.
The console is primarily for those who have smart devices on the Helium network as it is used to request data from connected devices. This is where the draw is for businesses, as it can help with supply-chain management, among other things. Connected devices include Lime scooters, parking meters, and potentially anything else.
Companies using Helium Console use data credits, a stablecoin worth $0.00001 that is created by burning HNT, to request data from the network, allowing them to call data from their connected device. If you are unfamiliar with how buying data works, there are a few different methods. One is a flat monthly rate for a set amount of API calls and the other is a pay-per-use regiment, the latter being Helium's approach.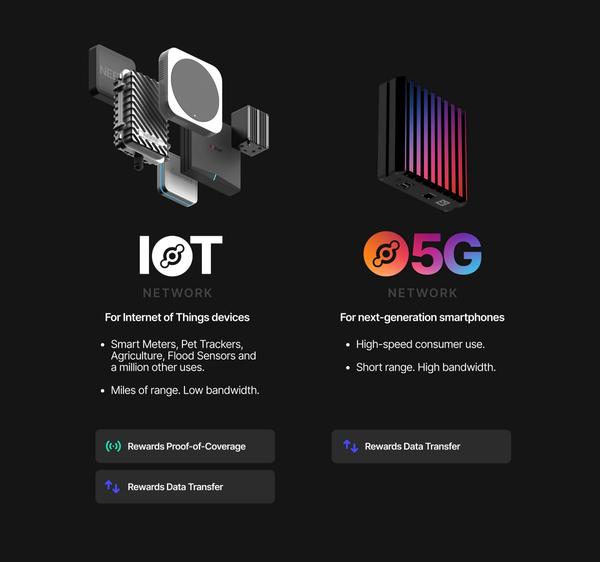 Helium Blockchain
This brings us to the Helium Blockchain. The Helium Blockchain uses three consensus methods, one being an adaptation of Honeybadger BFT that was specifically designed for supporting Helium nodes with spotty connection, Proof of Coverage, and staking.
Using this link, you can see the current numberof Helium nodes that are online, which was 595,595 time of writing, which was an increase of 8,973 from 30-days ago. Of those, roughly 75% were online as of this writing.
This underscores why it is important to have a consensus method that can act nimbly as a node could go offline while trying to validate a block. Honeybadger BFT, with BFT of course standing for Byzantine Fault Tolerance, is a round-based consensus method that selects a leader that proposes a block. If all nodes agree, then the block is immutably added, if not, a new leader is selected and consensus is (hopefully) achieved.
However, the Proof of Coverage is the primary source of consensus. And while I'm sure the backend tech isn't any less difficult, it's much simpler to understand. The Proof of Coverage forces the hotspots to prove that they are in the location that they say they are in.
The "challenger", which is another hotspot that is supposed to be within range of the hotspot being challenged, pings the "transmitter" or "challengee". This incentivizes the overlapping of hotspots necessary for a strong network. The "witnesses" obviously just witness it and report that the challenge happened.
Challengers are provided with HNT and the transmitters earn a portion of that HNT when successfully validated. This records data about the quality of the network.
Lastly, staking keeps track of the transactions on the network. Staking can be done on the Helium site by having 10,000 HNT, which is more than $20,000, or by using independent staking providers that can be found on Helium's site here.
The Grassroots Advantage
Oddly enough, Helium actually kind of has an advantage over traditional 5G companies in how it builds out. Through the rewards given to everyday individuals that buy and connect a hotspot, it is able to build out at a fast pace.
Now, economies of scale are tipped in the favor of the big companies who can pretty much build-out at the pace that they want to. But these companies have to think of the investors, so during a chip shortage, they may be tempted to grow the 5G network out at a slower pace. Or, at least until there is a Build Back Better bill that puts a billion dollars into the mix and shifts some of the burdens of 5G onto taxpayers.
Helium grows at the pace of new hotspots being added to the network. If I want 5G, I can simply pay for something that will make me money and give me some of what I want. Nobody is waiting for a subsidy, and, in fact, due to how Proof of Coverage rewards are planned to decline at a rapid pace as more hotspots are added, speed is of the essence for those trying to get in on the fun. That's why it has been able to become the fastest-growing wireless network ever.
Why Helium is Hard to Buy
Unfortunately, for those who are moved to purchase HNT, it can be difficult to do so. Helium is classified as a security, likely due to it literally selling "security tokens" to investors and it is owned by Helium Inc., not Helium proper.
For this reason, you can't just hop on over to Coinbase to purchase HNT, and if you did, they will route you to CoinMarketCap to see a list of Decentralized Exchanges that have HNT.
While it isn't quite on Coinbase yet, the direction the company is heading suggests that it could decentralize itself out of the security classification soon.
The company is transitioning more and more into becoming more like a DAO that would see Helium likely tradeable on Coinbase and other mainstream exchanges. Likely, Helium Inc. and its investors hold a high percentage of the tokens, so it will probably be more centralized than not, but it will definitely not be in the SEC's crosshairs as much, or at least not for the same reasons.
Oftentimes when cryptos are first added to Coinbase and other major exchanges, they ends up soaring as the immediate access that millions of crypto investors now have to the coin supercharges its demand. So it's worth noting that this is a highly desired crypto that currently has low access to it. It's also worth noting that trends don't always persist, so do with that information what you may.
Wrapping up
While Helium seems to be a great prospect, it certainly has risks. For starters, it's almost certainly against your internet service provider's terms of service to resell or otherwise extend network access for non-home or business use. Meaning, if your internet provider wanted, they could shut you down for allowing other people to connect to your Helium node. This isn't a crackdown you hear about, but as Helium starts to rival larger companies, the people doing this out of their homes might be in for a surprise.
Further, Starlink, owned by Elon Musk's SpaceX, is aiming to surround the planet with satellites that will provide internet across the world. Due to bandwidth constraints, Starlink likely can't provide 5G speeds. But, there is such thing as a "just noticeable difference" in psychology that suggests that there exist speed differences that people will stop noticing.
This doesn't mean the two can't coexist either, the 5G could be better for complex things like self-driving cars and the Starlink WiFi could be just good enough for your phone.
All in all, Helium is an exciting project that is growing fast. Low-access and high incentives to continue growing its network at a fast pace could see it burst onto the scene, though that is not without competition and risks to its expansion's legality.