With an MSRP of $14.99 each (2-packs go for $24.99, while a 4-pack costs $39.99), the 800-lumen KL125 is the least expensive of Kasa Smart's multicolor A19-style bulbs. The brand also offers the Kasa Smart KL130Remove non-product link ($21.99 list), which offers a more stylized shell, a flatter but still curved bulb shape, and a wider range of color temperatures (from a warm 2,500 Kelvin to a very cool 9,000K, versus 2,500K to a daylight 6,500K for the KL125), while the brighter, 1,000-lumen Kasa Smart KL135Remove non-product link ($22.99 each) adds a more energy-efficient design and easier Wi-Fi configuration via Amazon's "frustration-free setup" feature. Kasa also makes tunable and/or dimmable white bulbs, as well as a couple of filament bulbs (warm amber and soft white).
In contrast to the fancier-looking KL135 and KL130, the KL125 that we're reviewing here has a traditional spherical A19 bulb shape and a plain tapered shell, and it's fitted with an E26 base that will screw into standard sockets. As I previously mentioned, the bulb supports white color temperatures from a warm 2,500 Kelvin to 6,500K, which is roughly the color of daylight on a hazy day, as well as up to 16 million colors. TP-Link rates the KL125 at a typical 800 lumens, which I found more than adequate for lighting up a room or workspace.
As with the brand's other smart bulbs, Kasa Smart's KL125 connects directly to Wi-Fi networks and thus doesn't require a (potentially pricey) smart home hub.
Installation and setup
I didn't have much trouble connecting the Kasa Smart Light Bulb KL125 to my Wi-Fi networks, but it does involve jumping through a few hoops. First, you'll need to install the Kasa Smart mobile app, and then (if you haven't already) create a Kasa Smart account, which involves submitting an email address, creating a password (there's no option to sign in with Google, Apple, or Facebook), and accepting Kasa's terms of use and privacy policies.
After allowing (or not) the app to use your location, you then tap the "+" icon in the top corner of the Devices screen, then wind your way through a thicket of menus until you finally make it to the correct "KL100 Series" of bulbs (I would have rather just scanned the QR code that's on the box). You then screw the bulb into a light socket, power it on, wait for it to blink three times, and then connect to the bulb's local Wi-Fi network. Once connected, the app prompts you to enter your Wi-Fi password, and if all goes well (and after you've named the bulb), you're done.
The whole process worked smoothly on the first try for me, but that's quite a few steps, particularly if you're adding more than one bulb.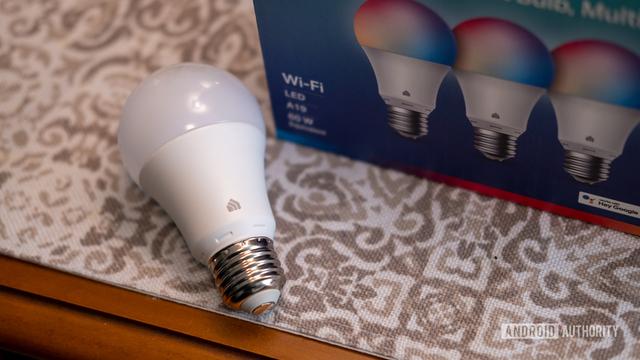 Features and functionality
Tapping the bulb in the Kasa app takes you to an attractive screen with a large power button, five "shortcuts" along the top, and three tabs at the bottom. Tap the power button to toggle the bulb on and you'll get four more tabs: Power (which contains the main power button), Brightness (which reveals a circular brightness slider, White (a color temperature slider, in Kelvins), and Color (a color wheel).
The shortcuts at the top of the screen refer to five color presets that you can access from the Presets tab. Four of the presets can be edited, allowing you to quickly change the bulbs color temperature and brightness with a single tap of a shortcut; these presets can also be triggered from the Kasa app's scheduling tool (which I'll get to in a moment), or accessed from the Devices screen. The fifth preset activates Auto-White mode, which adjusts the bulb according to the sun's brightness and color temperature during the day.
You can also put the bulb (or a group of bulbs) on a daily or weekly schedule. You can set the bulb to turn on or off at a specific time, at sunrise or sunset (offset by up to an hour), and with a fade (anywhere from five seconds to an hour), and the schedule can trigger one of your shortcuts, including the Auto-White mode.
The Kasa Smart app also lets you create light scenes, which you access in the Scenes tab (yes, there are a lot of tabs in the Kasa Smart app), and each scene can include a color preset and include one or more Kasa lights or devices.
In the original version of this review, I noted that the Kasa Smart app didn't let me schedule lighting scenes, as the Smart Actions tab (which allows for scenes to be scheduled or triggered by another device) had a message that read: "We're in the process of deploying Smart Actions across the Kasa ecosystem; stay tuned for more updates."
But roughly two weeks after this review first posted, an update to the Kasa app brought the Smart Actions tab online, allowing users to schedule light scenes (either on a set schedule or at sunrise/sunset) as well as trigger them when a Kasa security cam detects motion or when a Kasa switch is flipped.
Finally, the Usage tab on the bulb interface (not the main Kasa interface, which has its own set of tabs) lets you see daily, weekly, and energy usage statistics, including how many kilowatt hours have been used and how much energy the bulb has saved compared to a dumb 60W bulb. The app can't estimate the bulb's annual energy cost, however.
Smart home integrations
TP-Link says the KL125 smart bulb integrates with Alexa, Google Assistant, IFTTT, and Samsung SmartThings. Beyond voice control, Alexa lets you add the bulb as well as Kasa Smart light scenes to routines, and for much of my testing, I had the KL125 in an Alexa routine that would light up the bulb whenever my Wyze Cam v2 detected motion. Google Assistant also lets you use the KL125 in routines, although it won't trigger the bulb's light scenes.
As for the bulb's Samsung SmartThings integration, itdoes work as advertised, as opposed to what I wrote in the original version of this review. I did have trouble during my initial testing due to a combination of a (currently) unsupported QR code and what can only be described as user error, but after some help from a TP-Link rep, I was able to add the KL125 to the SmartThings app without any trouble. I stand corrected.
Bottom line
It's likely that many of the Kasa Smart K125's rough edges will be smoothed out over time, and the bulb has one of the better apps and stronger feature sets we've seen in its price range. For now, we're going to stick with the Cree Lighting Connected Max Smart LED as our editors' choice pick in budget A19 color smart bulbs, due to its quicker setup process, richer configuration options, and rock-bottom price tag. TP-Link's Kasa Smart K125 is a solid runner-up.
Updated on December 16, 2021 to note that the Kasa app now allows for the scheduling of light scenes following an app update.