Over 5% of the world's population are affected by hearing loss – by 2050, nearly 2.5 billion people are projected to have some degree of hearing loss. Closer to home, there are 12 million people in the UK that are hard of hearing, making it the second most common disability among Brits.
Hearing aids have been around for many years and have certainly come a long way since rudimentary devices. But the hard of hearing community do still have a clear need for better solutions to keep up with an increasingly interconnected society.
Bluetooth technology is playing a key role in revolutionising how the hearing loss community experiences the world. The Bluetooth Special Interest Group (SIG) has a legacy in the hearing aid industry spanning over 15 years and has recently stretched the capabilities of its audio standard to its limits to keep pace with the needs of those with hearing loss.
Recognising the challenges faced today, the Bluetooth SIG launched LE Audio. This next generation of Bluetooth wireless audio enables the hearing loss community to take advantage of the same benefits enjoyed by users of standard Bluetooth headphones and earbuds. Through this, users can experience increased sound quality, reliability, battery life, and access to hearing assistance technology.
Power struggles
Since Apple's entry into the hearables market in 2016, a vast period of change was heralded, accelerating the move to wireless headphones and earbuds to a create an industry estimated to be worth over $135 billion by 2024. As a result, the hearing aids market is growing at a significant rate due to the technological development of these products.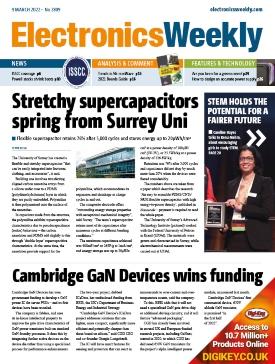 Despite the vast opportunity and advancements to the wider hearable sector, a major factor has inhibited such capabilities within hearing aids – power. The power consumption in current models tends to be higher and allows them to last less than 24 hours. Noise cancellation features diminishes their battery life even further.
LE Audio will help address this by introducing the Low Complexity Communication Codec (LC3). In practice, it means that the component will enable engineers and manufacturers to build products with a longer battery life while not being forced to sacrifice sound quality.
When Bluetooth devices communicate, airtime is consumed, i.e. the bandwidth available for data transmission. Battery power was typically lost at greater rate due to airtime consumption – thanks to LC3 in LE Audio, this has been cut in half. As such, battery power can last longer, which translates to users experiencing all-day runtime in a smaller, less bulky form factor.
Hearing LE Audio
LE Audio will support- devices with features including lower energy consumption, higher sound quality, as well as Multi-Stream Audio and Broadcast Audio functionalities.
Wireless earbuds with built-in Bluetooth technology will be able to receive an independent signal from a smart device instead of having to communicate with an intermediary first. For example, people wearing hearing aids connected to their smartphone will make wireless calls and listen to music and video content by receiving the signal from the smart device itself. Another possible use that would make everyday life much easier for those hard of hearing, will be the ability to connect the hearing aid to increasingly popular voice assistant services, such as Alexa or Google Assistant.
With broadcast audio, a Bluetooth audio transmitter can broadcast to an unlimited number of Bluetooth receivers. This could form the basis of a next generation Assistive Listening System (ALS) that allows hearing aid users to receive announcements at train stations and the audio track in cinemas, theatres or conferences directly via the hearing aid, vastly improving everyday life. Broadcast audio also allows friends to enjoy music played on a smartphone through their Bluetooth headphones and hearing aids simultaneously.
Millions of people are impacted by hearing loss. Thanks to Bluetooth LE Audio, manufacturers can deliver solutions fit purpose, to empower the hearing loss community – many of which are already racing to produce next-generation, Bluetooth enabled hearing-aid for 2022 and beyond.
David Hollander is the Senior Director of Marketing for the Bluetooth SIG. His team is dedicated to raising awareness of the expanding capabilities of Bluetooth in the IoT and advancing the interests of Bluetooth creators and users across the globe.