Essentially the Dyson V11 Absolute (£599) offers the same multi-functional design as the V10, but Dyson has boosted the power by 20 per cent, and you can feel the extra suction, particularly on Boost mode. It's easily as powerful as a standard wired vacuum but so much easier to use. Cleaning the stairs becomes almost pleasurable.
Battery life has also been extended to a full 60 minutes (on the lowest eco setting) which is more than enough for even the biggest home. In reality nobody normal vacuums for an hour, but the extra battery life means you don't have to charge it every time you've finished using it. Dyson has included a small LCD screen which is wholly unnecessary but extremely cool and will tell you when to clean the filters, and how to clear blockages.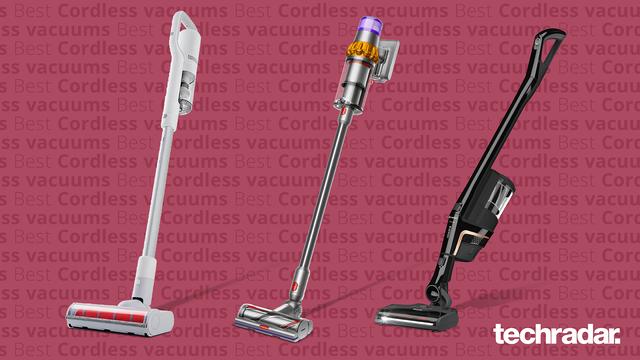 But the biggest improvement on show is the new high-torque motorised full-width brush head that, when clicked into place, adjusts power depending on the surface you're cleaning, not only protecting rugs and floors from damage but maximising battery and suction.
Our only complaint - aside from the whopping outlay - is the fact you have to hold the trigger down the whole time you're cleaning. This is fine if you're using a Dustbuster with a 15-minute battery life, but it gets tiring after tackling a three-bed semi.
Pros: Supreme suction; generous battery; auto cleaning mode Cons: Price; no trigger-hold
Price: £599 | Check price on Dyson | John Lewis | Currys
Vax ONEPWR Blade 4
The best value cordless vacuum