If there's one thing that we can all get behind, it's having as many cool color-changing smart lights as possible. While many may opt for Philips Hue due to its reliability and popularity, Govee has been making waves in the smart light space over the past few years.
Previously, we've checked out some of Govee's best options like the TV Immersion Kit and the H6050 Smart Lamp. But today, we're going to take a look at the company's RGBIC LED Neon Rope Light.
What is RGBIC?
The first question that you might have is the same one that I had, and that's "what does RGBIC actually mean?" I assumed that all RGB light strips were the same, but that's actually not the case.
Here's the description that Govee offers on its listing page for this light strip:
"Customize your lighting your way using our innovative RGBIC technology. The integrated IC chip allows for multiple color options on a single light. Your colors, effects, and more can be adjusted using the Govee Home App."
So essentially, the "IC" is the key differentiator here, allowing you to have a single light strip show different colors for each LED. This came as a bit of a shock, as I have just been accustomed to traditional light strips that change the color of the entire strip at the same time. But after playing around with the Govee Home app, it's clear that there is so much that this additional functionality has to offer.
Govee App and Smart Home
Before getting into the nuts and bolts of how the light strip looks and performs, it's important to note that one of the key reasons to consider Govee's products is its smart home integration. While you can control everything from the Govee Home app, you can also add this light strip (and other Govee products) to the Google Home and Amazon Alexa app. Obviously, this makes controlling your entire smart home much easier, as you can make adjustments from a single app while enjoying the ability to ask Assistant or Alexa to set the mood.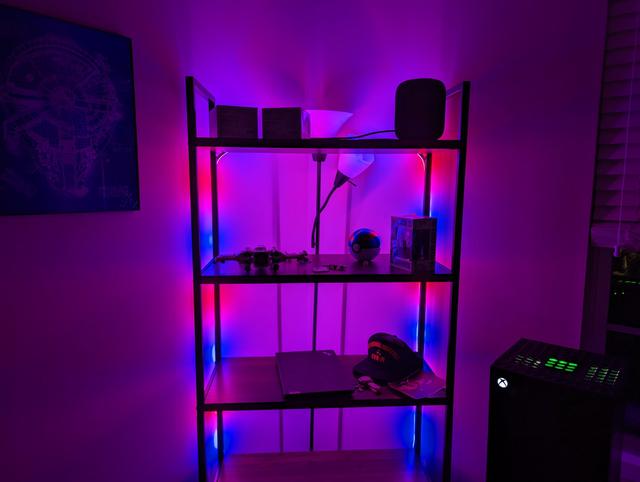 Moving over to the Govee app, this might just be the most feature-packed smart home app that I've ever used. Truthfully, there are so many different configurations and settings panels that it can really make your head spin.
Connecting the light is easy enough, as you just need to make sure that the light strip is plugged in, and you are signed into the Govee Home app. Then, just follow the on-screen prompts until everything is connected. After the light is connected for the first time, you might need to download a firmware update, so make sure that you don't stray too far away or the update might be interrupted which be a bit of a headache.
Once everything is kosher, then you can start exploring what this light strip can do. With the light selected in the app, you're presented with the following options:
Gradient
Seriously, Govee has packed so much customization into its app that you could spend a long time messing around with different setups.
Where this light strip shines is in the Segmented Light section. Here, you can tap on each segment, and then pick a color from the color picker below. You can opt for something like I did with alternating colors, use the same color across the board, or do pretty much whatever you want.
Installation and Performance
Another key benefit of the RGBIC LED Neon Rope Light is its versatility when actually setting it up. If you look at Govee's website or the Amazon listing, the strip can be contorted and placed in a variety of different positions to make different shapes. But for me, I wanted to use this light strip as an accent piece for a bookshelf in my home office.
If you've used other light strips in the past, you might be accustomed to seeing a strip of 3M tape on the back, but you won't find that here. Instead, Govee provides a few different installation methods, including brackets with 3M adhesive. That's the route that I went, as it allowed me to place the brackets in different areas.
I'm a bit surprised that we haven't seen other smart light makers make this change, as it ends up being much easier to install, and you don't have to worry about the entire 3M adhesive wearing out. Plus, you won't have to be concerned with the entire light strip needing new adhesive. With the Govee Rope Light, you can just remove the lights from the brackets, and then use other methods for installation if you want to change things up.
As for actual performance, I have been pleasantly surprised by how good these look. I can definitely see the benefit in wanting to make fun and cool shapes and then throwing it on a wall, but it also works extremely well as an accent light. Being able to adjust the individual segments of the light strip allows me to add some flair to my pictures, and being able to adjust the brightness ensures that the colors don't completely blow out those pictures.
If you're interested in the RGBIC LED Neon Rope Light from Govee, you can head over to the company's website, or pick one up right from Amazon. The light strip retails for $80, but at the time of this writing, you can save $10 by clipping the on-page coupon.
Govee RGBIC Neon Rope Light
Govee RGBIC Neon Rope Light Rating: star_fullstar_fullstar_fullstar_fullstar_75 (4.75 / 5)
The Good
The Bad
The Bottom Line
Simply put, the Govee RGBIC Neon Rope Light is a fine addition to any smart home setup. Whether you want to add some flair to your wall or use it as an accent light, this light strip is incredible.