Ikea's Trådfri smart bulbs and smart home devices are super cheap, so it's one of the easiest ways of connecting up your home lighting.
However, the Trådfri app is severely lacking in certain areas - such as the ability to control your bulbs and tech when you're away from home - and there's not a whole lot of automation going on either.
Lucky for you then that the system works with Apple HomeKit, meaning your Trådfri bulbs are a lot more versatile, thanks to Apple being able to do a lot of the legwork.
Here's how to get your Ikea Trådfri smart bulbs added to your HomeKit setup, and if you also have Philips Hue, check our guide to getting Trådfri working with those too.
Getting the HomeKit code for your Ikea Trådfri Gateway
If you bought your Ikea smart bulbs before the HomeKit integration officially went live, then you'll have to do two things: Firstly, updating your Ikea bulbs to the latest firmware and, secondly, finding out the eight-digit HomeKit code for your Trådfri Gateway.
Once you've done that then you need to grab that HomeKit code for your Gateway.
The good news is a much easier process than with smart lighting rival Lifx - where a reset of the system is required.
With Ikea Trådfri, it's just a case of firing up the app, tapping the settings button, choosing 'Integrations' and tapping on 'Apple HomeKit'. You'll be presented with the HomeKit code; just write it down somewhere safe.
Next, open up the Home app on your iPhone or iPad and select 'Add Accessory'. Click the 'Don't Have a Code or Can't Scan' option and choose the 'Enter Code' option. Tap in the eight digits and you're done.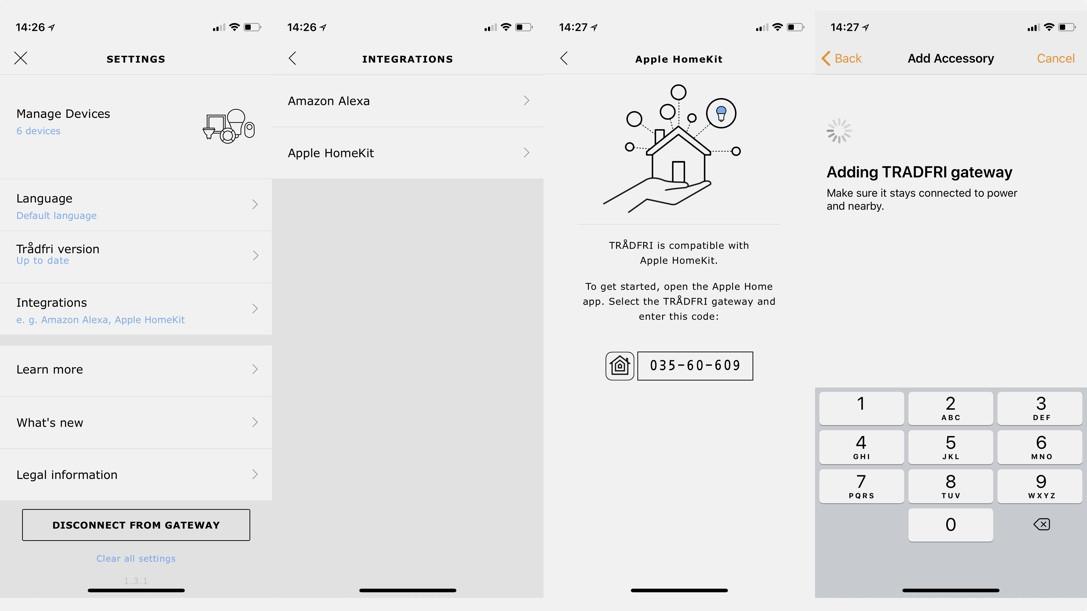 Obviously, if you've recently bought your Ikea smart bulbs, they should have the latest firmware and the HomeKit code might even be on a sticker on the box.
Adding your Ikea bulbs to your Apple Home app
Entering the code adds the Trådfri Gateway to your HomeKit system - the next few steps will let you add any bulbs connected to that Gateway.
On each step you'll be able to choose names and room locations for your bulbs, and you'll also get the option to include them within your HomeKit favourites.
Once you've gone through all the bulbs connected to your Gateway, you're finished setting up and you can now control your bulbs from within the Home app - or in Control Center if you included them as favourites. That's right, you'll never need to fire up the clunky Ikea Trådfri app ever again - shades, colours, brightness... it's all available through Apple Home.
Obviously HomeKit means that you don't actually need to open the Home app either. You can use Siri on your iDevice to control your lights with your voice or, if you've got an Apple HomePod, you can bark orders at that too.
Controlling Ikea smart bulbs when you're away from home
One of the biggest flaws of the Trådfri system is that it's not remotely controllable when you're not at home - your phone needs to be on the same Wi-Fi network as your Gateway to control the lights through the native app.
However, HomeKit chucks that drawback out of the window. With your Apple TV, HomePod, HomePod Mini or iPad acting as a HomeKit hub, it will maintain a connection with the Ikea Gateway within your home but you'll be able to send control instructions to your hub, from your phone, from wherever in the world you are... provided you've got a data connection.
Automation and scenes with Ikea Trådfri
The Trådfri app, as we've mentioned, is about as basic as it gets - with simple away from home and timer options the only 'automation' options on offer.
However, HomeKit integration offers up a wealth of riches; your Ikea bulbs will be treated as kindly as any other smart devices that are synced up, so you can include it in complex automations and scenes you've set up.
For example, you could power all of your Ikea bulbs off with a quick, "Hey Siri, it's bedtime," while at the same time locking your front door, turning the heating up, switching the TV off and setting your security alarm.
Or, you could have you Trådfri lights in your living room dim to 25% when you tell Siri that it's "Netflix time". The possibilities are endless now that your Ikea lights are free from the shackles of the Trådfri app.
Ikea Tradfri with Amazon Alexa and Google Assistant
Ikea's smart lighting platform has, for a while now, also been available for control and for advanced automations using Amazon Alexa - you just need to download the skill and add the bulbs as devices - and Google Assistant integration is also an option as well
---
More smart home how-tos
More smart home how-tos