JMGO, a smart projector brand, has secured 1 billion yuan ($157 million) in new financing, 36Kr reported on Tuesday. The co-investors were OPPO, IDG and Lexun Tiancheng. Fangchuang Capital was the exclusive financial adviser.
The funds are intended to be used as working capital to support the expansion of JMGO's business scale, and to invest in key strategic businesses such as technology reserves, product development, channel expansion and brand promotion.
JMGO was founded in Shenzhen in 2011, specializing in the field of smart projectors. JMGO started out from smart home projectors, releasing several product lines including the G series for household use, P series for portable use, J series for household performance, U series for high-end laser TVs, O series for wall or projection surfaces and more. In 2020, JMGO launched its own "LUNA" operating system.
OPPO is a new industry investor introduced in this round. Hu Zhenyu, founder and chairman of JMGO, claimed it was because of the positive development potential of business collaboration between the two companies that JMGO chose OPPO. The two will have business overlap as OPPO is developing its IoT business and expanding its smart home ecology based on smartphones. Additionally, JMGO will benefit from OPPO's supply chain resources and channels. JMGO P3S portable projectors are now available on the OPPO channel.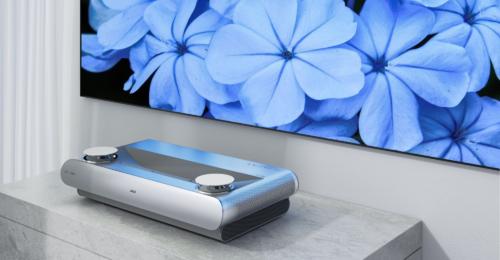 The recent financing represents a pre-IPO round for JMGO. Asked about its listing plan, Hu Zhenyu admitted Shenzhen Huole Technology Development Co., Ltd., the parent company of JMGO, had intentions of going public, but added that this is not the ultimate goal. The company still focuses on strengthening its foundation and improving management of supply chains, production, sales and shipping capabilities.
Opto-mechanical design is the technical core of projectors, where the light source system is a prerequisite for the design of the projection optical system. In contrast to traditional lamp light sources, LED is by far the predominant type of light source in application today, commanding the vast majority of the market share. In addition, laser light sources are also growing rapidly, due to its higher brightness, although the market share is still very small due to high costs.
JMGO products primarily adopt LED light sources, although it launched its first laser TV in 2016 and made continuous technical investments and product iterations for laser light source projectors.
JMGO has provided content mainly for film and TV resources in the past, and now it has gradually branched out into new scenarios such as fitness and yoga, children's education, music, karaoke and cloud games. It has also launched branded accessories including wireless microphones, gamepads and 3D glasses. Hu Zhenyu expressed the expectation of this segment of revenue as a core engine of content revenue growth.
SEE ALSO: Ninetech Bags Tens of Millions of Yuan in Round-A Financing
The smart projection market has witnessed a high growth stage in recent years. As per RUNTO, the sales units of the Chinese smart projection market (excluding laser TVs) reached 4.803 million units in 2021, up 29% year-on-year, with a sales volume of 11.61 billion yuan, up 32.2% year-on-year.